Alumni
Alumna Excels as a Consultant and Scientist in Washington, D.C.
Michelle Eggink, Assistant Director of Content Marketing & Communications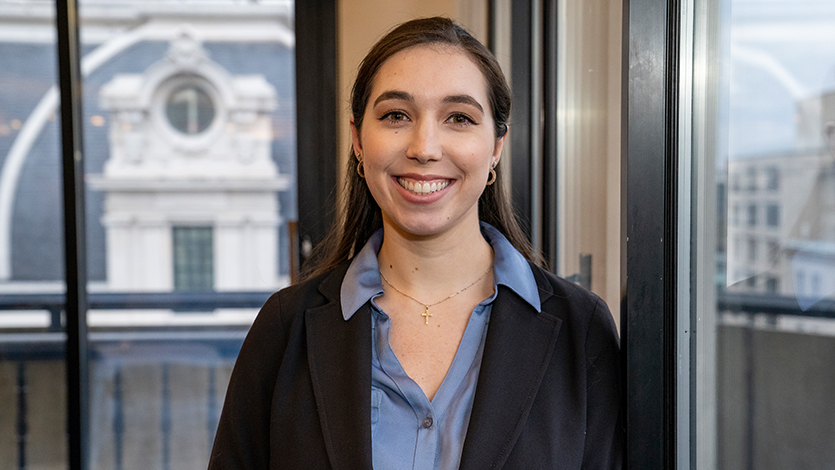 May 30, 2023 — Jenna Vanadia '19 is dedicating her career to environmental protection and management, a passion that was fostered during her time at Marist and led to her current role as a consultant and scientist for ERM (Environmental Resources Management).
As a student, Vanadia spent a semester in Washington, D.C. and completed undergraduate internships with key agencies like the U.S. Environmental Protection Agency (EPA) and the NYS Department of Environmental Conservation. Access to these opportunities paved the way for her now thriving career in Washington, D.C.
A native of Long Island, growing up near water nurtured Vanadia's love of nature, aquatic life, and environmental protection. When it was time to choose a college, Marist's environmental science and policy programs, study abroad opportunities, and captivating river views from campus are what drove her decision.
"I grew up on the water going fishing on my Dad's boat during the summers, so I loved the idea of being on the river at Marist," said Vanadia. "In addition to the river view, I chose Marist because it was a smaller liberal arts school that was close to home and had great study abroad options and environmental science and policy programs."
Because you do not have to pick one school to enroll in, Marist enabled Vanadia to create a combination of studies and experiences tailored to her personal passions. She was an environmental science major with a concentration in environmental policy and a minor in political science. On campus, Vanadia worked for the Marist Institute of Public Opinion (MIPO) and participated in Students Encouraging Environmental Dedication (SEED), the student-run environmental group on campus. She had a number of environmentally-focused positions, including interning for the NYS Department of Environmental Conservation, the Smithtown Department of Environment and Waterways, and the EPA.

James Snyder (far left) and Jenna Vanadia (right of Snyder) on the Hudson River for an honors program class, "Environmental Explorations of the Hudson."
"Jenna accomplished so much during her time at Marist, participating in undergraduate research, civic engagement, and high-level internships," said James Snyder, Dean of Academic Engagement and Associate Professor of Philosophy. "As a student, she studied many different fields in the liberal arts and sciences, and this special combination of studies prepared her for her career in environmental resource management. She represents the best of our Honors Program and I am excited to see what the future holds for her."
Vanadia was a Presidential Scholarship recipient, Sigma Zeta National Science and Mathematics Honor Society member, and a student in the Marist Honors Program.


Vanadia (far left holding folder) networking with Marist Alumni on the D.C. Public Service Career Trip in 2019.
By participating in Marist's Albany Summer Internship Program, she was given the opportunity to serve as a legislative assistant for the New York State Senate. She went on to spend two semesters off-campus — one abroad at Marist Italy in Florence and then over a summer semester in Washington, D.C. Her semester in D.C. and her time on the Public Service Career Trip inspired her to move there post-graduation.

Vanadia paragliding in Interlaken, Switzerland (left) and in Venice, Italy (right) during her semester abroad.
"The Washington Summer Semester Internship Program and the Marist Public Service Career Trip gave me the unique opportunity to explore D.C. twice as a student," said Vanadia. "It was experiences like these that led me to where I am now at ERM."

Vanadia with ERM coworkers at a volunteer tree planting and invasive species removal event.
In her current role as a consultant and scientist at ERM, Vanadia works with clients to help them understand environmental law and uphold environmental regulations to protect the health and safety of people and the environment. While her role is multifaceted, some of Vanadia's important tasks include preparing plans, permits, and reports for hazardous waste, spill prevention, air quality, and water quality programs. She also conducts fieldwork, inspecting air, groundwater, and surface water for ecological field studies and compliance assessments for federal, state, and local regulations.
"One of the cool parts of my job is when my industry clients see how implementing more sustainable and environmentally friendly practices is often more cost-effective and better for operations," said Vanadia. "Not only are they showcasing their sustainability efforts to consumers and stakeholders and avoiding fines through compliance, but they are learning how their business can make large-scale impacts on the environment."