Campus Communications
Florence, Dublin Celebrate Marist 100 as Part of World Tour
Anthony Proia and Bryan Terry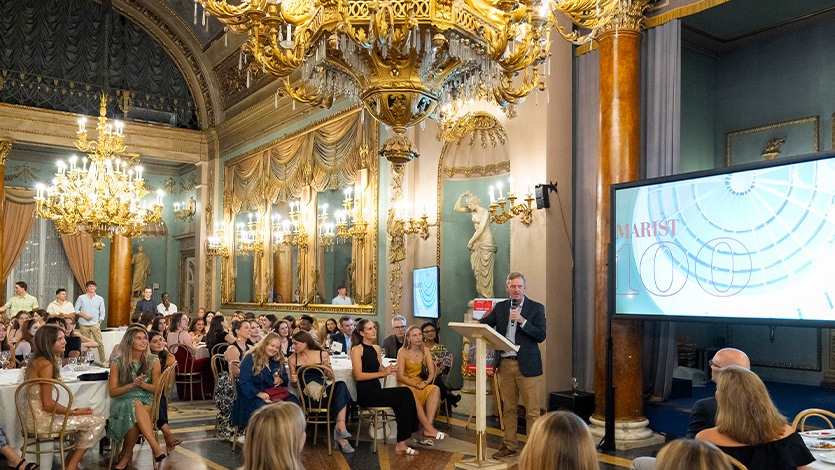 September 26, 2023 — President Kevin Weinman and other leaders took the College's exciting vision for Marist 100 across the Atlantic to Florence, Italy and Dublin, Ireland last week after unveiling the new strategic plan to faculty and staff in Poughkeepsie on Sept. 6. The events are part of the Marist 100 "World Tour," which will visit four countries, seven cities, and include numerous virtual engagements, all in the first 100 days of launching the plan.
"Monday night's reception was straight out of a movie," said Benson Delaney '27, who attended the Florence event and is part of the First-Year Florence Experience. "I got the opportunity to talk with [President Weinman] right before I left for my year abroad, so it was great being able to catch up with him and talk about my first few weeks here and how my transition has been going." More than 200 Marist students attended the Florence reception at the historic Palazzo Borghese along with faculty and staff.
Added Delany, who is from Mansfield, Mass. and majoring in fine arts: "I believe that because of the Marist 100 strategic plan, the Marist student body will start to consist of more international students and will become a more culturally diverse college."
Marist's campus in Florence offers a wide variety of study abroad experiences, including the First-Year Florence Experience during which students spend their entire first year of college studying in Florence, and then return to the Poughkeepsie campus for their remaining three years. Florence also offers four-year degree opportunities as well as traditional semester abroad experiences.

President Weinman speaks to students at Marist 100 event in Dublin (photo by Andy Alongi/Marist College).
The Momentum Rolls into Dublin
Forty-eight hours later, the "World Tour" visited Dublin, the second location for Marist's unique First-Year Experience program. There, 40 students attended an event at Fade Street Social, a lively venue in the heart of the Irish capital.
"Dublin is a nerve hub of Marist, just like Poughkeepsie," Weinman told the audience at Fade Street. "Marist is global. Marist is everywhere. The Florence program, the Dublin program, the fact that half of our students study abroad, means that you all have the wisdom to understand that education doesn't occur only on our campus in Poughkeepsie, New York."
First-year students in Dublin also were excited to hear about Marist's bold vision and the many opportunities that lie ahead for current and future students.
Valincia Hill '27 felt as though President Weinman genuinely listened to students and cared about what they had to say during the Dublin "World Tour" event. The marketing and computer science major from Las Vegas believes students should take full advantage of opportunities to study internationally, adding that her first-year travel experience was not scary, as some students may assume.
"Increasing that comfortability with students to go beyond their limits and go beyond their boundaries is really important," said Hill, a first-generation college student.
Hunter Petro '27, from Stony Point, N.Y., also attended the Dublin Marist 100 launch and said he appreciates President Weinman's focus on students.
"He's so engaged and it motivates us as students. I know that talking to all my friends here — they are so happy he came out," the political science major said.
After each event, students were invited to be part of history and sign the Marist 100 poster for their stop on the tour. At the end of the "World Tour" in December, signed posters from all seven cities will come together for a concluding event in Poughkeepsie.
"I'm excited about Marist 100 … I'm ready to go, and I hope you are too!" said Weinman to the cheering crowd in Florence. "You are studying at a College that is really on the rise, and I promise you more and more people will be talking about Marist around the world."
The Marist 100 World Tour continues with events in New York City on Oct. 5, Denver on Oct. 11, and Philadelphia on Oct. 14. For event recaps and share your thoughts, join the Marist 100 Facebook Community.