Institution
Launching Pad: From Marist to the New York Jets

January 30, 2019—Marist alumni and a current student are having a blast with Gang Green.

Kicking His Way into History: Jason Myers '13
The Marist-Jets connection starts, of course, with Jets kicker Jason Myers '13, who joined the team in 2018.
His first season was remarkable, with Myers connecting on 31 of his 33 field-goal attempts. His 118 points rank fourth in the NFL among kickers. Other achievements included becoming the first player in NFL history to hit five 55-yard field goals in a single season. Myers also set a Jets record with seven field goals on October 14 in a 42-34 win over the Indianapolis Colts (the USA Today headline gushed, "Myers Kicked His Way into the Record Books"). Following that performance, he was named AFC Special Teams Player of the Week.
This past weekend, he played in the Pro Bowl in Orlando, helping lead the AFC to victory.

Capturing Every Moment: Gabriella Ricciardi '20
Student Gabriella Ricciardi '20 has the chance to work with the Jets on the sidelines. During the fall 2018 semester, Ricciardi was a photography intern for the team. She started out photographing high school games for the Hudson Valley Sports Report and found a real passion for the work. From there, Ricciardi, a lifelong Jets fan, started to follow Jets lead photographer and cinematographer Dan Szpakowski on Instagram. She loved his work so much that she decided to reach out. "I put myself out there and told him how much I loved the work of capturing moments. I explained that I'm a completely self-taught photographer and that I was hoping to be considered for an internship."
To her surprise, Szpakowski wrote back. He asked for a portfolio and then scheduled a phone interview. "The interview clinched the deal," said Ricciardi. "Dan is also self-taught, and we had a lot in common."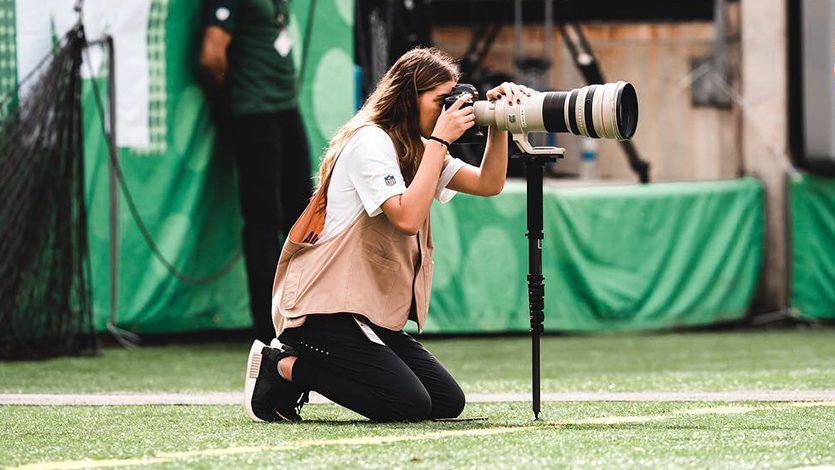 Ricciardi spent the semester at Jets practices, home games, and community-sponsored events. "The team is so involved in the community and it's great to see that and be part of it," she said. A recent project included team members volunteering at a food bank in Harlem. Her semester was so successful that she was offered a freelance position, and now she's paid to photograph events as needed.
For Ricciardi, the experience has been life-changing. "There's no question in my mind. After graduation, I want to stick with photography and sports."
Cheering From the Sidelines: Lauren Strumpf '12
Cheering the team on is Lauren Strumpf '12. Strumpf is a kindergarten and ESL teacher in the Williamsburg neighborhood of Brooklyn, but in her free time she follows her passion for dancing and cheerleading as a member of the Jets Flight Crew.
"I saw a Jets game a few years ago and saw the Flight Crew Cheerleaders perform. I did both cheer and dance ensemble at Marist and was interested in keeping that as part of my life after college," she explained. She took a Jets prep class and auditioned in 2013, but didn't make the cut.
That didn't stop Strumpf. She auditioned four more times and was selected in 2017. She just finished her second season with the Flight Crew.


The Crew performs at all home games and Strumpf loves it. "I'm able to balance this with my full-time teaching career, which is just great," she explained. "The first time I stepped on the field, I was nervous. But it's amazing to look up and see all the fans…it's very exciting. There's so much good energy at Met Life stadium."
Strumpf also has a great working relationship with her Flight Crew Director Denise Garvey. "Denise is so supportive and talented. She's also a former teacher, so that's a nice common bond." She also had high praise for her fellow cheerleaders. "My teammates have become some of my best friends, and I am grateful to be surrounded by such hard-working, inspiring, and genuine women."
Interestingly, it's a case of déjà vu all over again for Strumpf and Myers, since she cheered for him when both were students at Marist (though they didn't know each other at the time). "It has been so much fun to have a Red Fox on the team this year—and what a season for him!"