Academics
Marist Faculty and Students Promote STEM Exploration Through Hudson Valley FIRST Lego League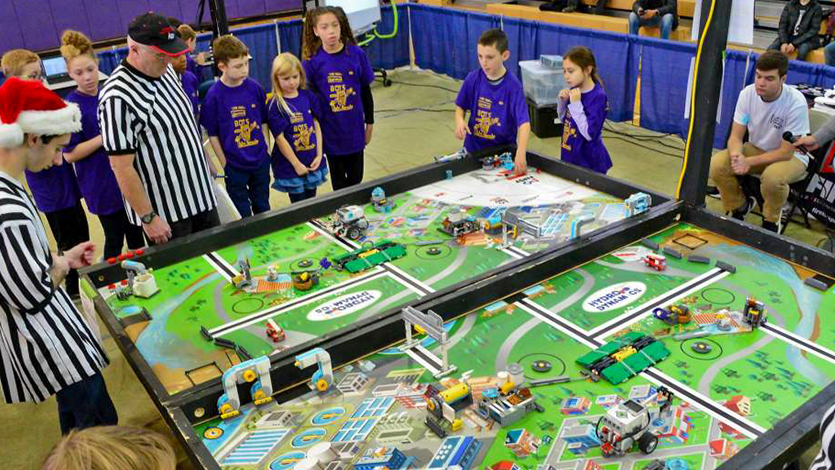 February 26, 2019—In the Marist tradition of serving others, students and faculty from the School of Computer Science and Mathematics continue to play a leadership role in encouraging local students to explore their passion for science, technology, engineering, and mathematics. The vehicle for their community outreach is the award-winning Hudson Valley FIRST Lego League (HVFLL), an innovative program that challenges young people to design, build, and program their own Lego MindStorm robots.

FIRST (For Inspiration and Recognition of Science and Technology) was founded in 1989 by Dr. Dean Kamen, an American engineer, inventor, and businessman best known for inventing the Segway. According to its website, the organization's mission is "to transform our culture by creating a world where science and technology are celebrated and where young people dream of becoming science and technology heroes." It has been extremely successful. This year, FIRST will serve more than 1,000,000 youths, ages 6 to 18, in over 86 countries around the globe.

In this spirit, Assistant Professor of Computer Science Casimer DeCusatis (formerly an IBM Distinguished Engineer) founded HVFLL 11 years ago in order to bring this innovative STEM program to children in the Hudson Valley. A 501(c) not-for-profit public charity, HVFLL depends completely on donations and is staffed by volunteers; 100 percent of contributions are used to support the program. In 2008, HVFLL's inaugural robotics tournament attracted about 40 students, and it has grown by leaps and bounds since then. Currently, HVFLL serves more than 1,100 students, has more than 700 social media followers, and holds qualifying tournaments at 11 locations across the Hudson Valley. Hundreds of attendees from across New York State attend the annual championship to cheer on their local robotics teams, some of whom have advanced to international competition.


The theme of the 2018-19 FIRST Lego League season was "Into Orbit," which invites kids to explore, challenge, and innovate in the vast expanse of space. However, the program is about more than just learning how to program robots. Students are taught to live by a set of core values, including teamwork, diversity, respect, discovery, and "gracious professionalism." Although participating students are more likely to choose careers in technology-related fields, these core values will serve them well regardless of their chosen discipline.
Almost a dozen Marist students supported this year's qualifier tournament at LaGrange Middle School on January 26, as well as the Hudson Valley Championship at Dutchess Community College on February 9. Many of the students are members of Marist's Computer Club and/or the student chapter of the Institute of Electrical and Electronics Engineers. The volunteers included Alexander Antaki '20, David Jennings '20, Rob Liskin '20, Alex Mahlmeister '20, Josh Martin '20, Evan Mastriano '19, Kayla Mesmain '19, Ruth Murphy '19, Matt Oakley '20, Jillian Oestreicher '20, and Cameron Ulrich '20. Said DeCusatis, "These students have a passion for educating our youth, which is an inspiration to all of us." In addition to the involvement of the Marist students, DeCusatis co-directed the tournament, and Assistant Dean of the School of Computer Science and Mathematics Cynthia Worrad served as a robot design judge.
This year's HVFLL championship went to the Hotshot Hotwires, a team from Ossining, New York that will now advance to international competition at FIRST WorldFest in Detroit in April. In addition, runners-up the Golden Snitches and Team STUBBY will attend the FIRST Invitational event in Fayetteville, Arkansas in May, while the Pusheen Cats will be at the FIRST event at Legoland in Carlsbad, California.