Institution
Renovated Steel Plant is Unveiled
Expansion includes a makerspace, two art galleries, and a fashion retail laboratory.


February 1, 2019—Marist College's Fashion and Art & Digital Media Programs have a new home. The College's latest building project—the renovated and expanded Steel Plant—was officially opened today in a ceremony on campus.
Designed by Robert A.M. Stern Architects, the project expanded the existing 12,000 square feet of studio and learning space with a two-story, 35,000-square-foot addition. The Steel Plant expansion is designed to match other Marist buildings with a Hudson Valley industrial-modern style, incorporating brick, steel, polished concrete, terrazzo, corrugated metal, and tile. Key spaces in the new facility include: digital labs, fashion studios, a makerspace, fashion exhibition gallery, art gallery, Mporium retail laboratory, and Winter Garden.
"The Steel Plant represents Marist's commitment to the art, digital media, and fashion programs," said President David Yellen. "This stellar new facility will have a positive impact on the College for years to come, setting our students up for success by better preparing them for internships and careers in areas where art, fashion, and technology intersect."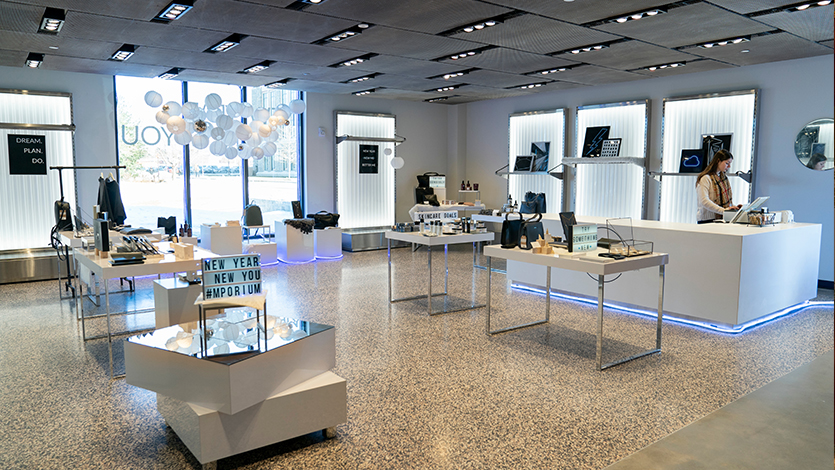 Mporium, the student-run fashion retail laboratory

New York State provided nearly $3 million in grants for the project, which is expected to bolster the fashion, art, and digital media programs in both quality and scope, attracting a larger and more qualified candidate pool in related majors. Additionally, the new space and equipment will expand the application of technology in curricula across all programs, including the development of specialty courses such as MicroManufacturing and Digital Patternmaking. Students will have the opportunity for hands-on experience with a working makerspace designed to reflect those found in both the digital media and fashion industries. The new facility aligns with the College's overall profile. Marist was recently named a Most Innovative School by U.S. News & World Report, and its Fashion Program is ranked among the top 50 such programs globally by the industry publication Business of Fashion.
The state-of-the-art building also boasts key local connections as well. Several areas of construction materials were locally sourced and the café in the Steel Plant's Winter Garden will feature products from local companies, including Poughkeepsie-based North River Roasters coffee.
Looking ahead, the College is exploring new programs in digital media, sustainability in fashion, textile design, technical/technological design, and e-commerce. "We are eager to see what possibilities exist to connect the local community to the resources in this facility," said Executive Vice President Geoff Brackett.
Exhibitions in the fashion and art galleries will be announced in the next few weeks.