Institution
Residence Hall Named for Alumni Genine and Michael McCormick '88/'88
The fourth building in the North Campus Housing Complex has been dedicated.


May 3, 2019—In a ceremony on campus today, the fourth and final residence hall in the North Campus Housing Complex was formally dedicated as McCormick Hall in recognition of Genine and Michael McCormick '88/'88.
"Genine and Michael's steadfast devotion to their alma mater during the past 30 years has been inspiring. They have been generous to the College by volunteering their time, supporting our campus library, music building, theatre program facilities, and by launching the new Career Center in the School of Management," noted President David Yellen. "They are alumni who have remained connected to the College and the entire Marist community is grateful for their ongoing support."
McCormick Hall is the third campus building to be named in honor of alumni through philanthropy. The previous two are also part of the North Campus Complex: Tom and Mary Ward Hall was dedicated in honor of Tom Ward '69; and Lavelle Hall was dedicated in honor of Patrick Lavelle '73. Last fall, John and Nancy O'Shea Hall was dedicated in honor of longtime College trustee John O'Shea and his late wife.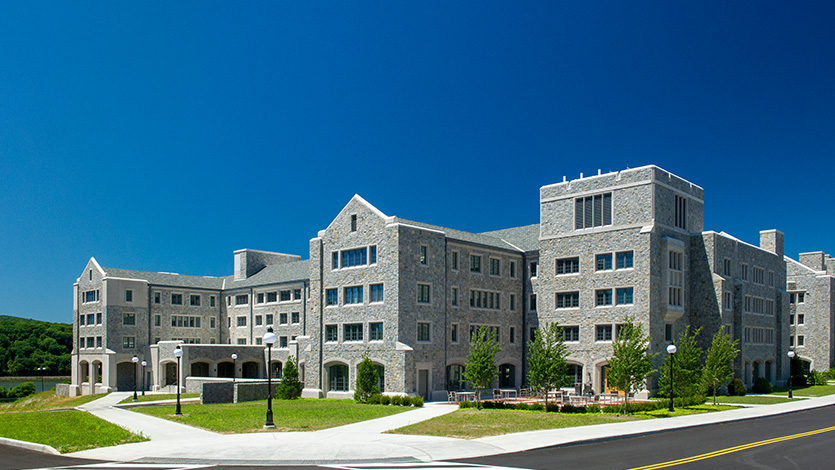 The McCormicks, both members of the class of 1988, met while attending Marist and have been very involved with the College since then. Genine, who is a CPA, joined the Marist Board of Trustees in 2010 and currently lends her expertise on the Executive Committee, Advancement Committee, and as chair of the Audit Committee. She previously volunteered as national chair of the Marist Fund, and she and Michael co-chaired the fund's Alumni Division for two years. Genine served as co-chair of the special tribute event honoring Dennis and Marilyn Murray in May, 2016.
Michael has spent more than 25 years in the finance industry as a partner and portfolio manager with Gilder, Gagnon, Howe & Co, LLC, an investment firm in New York City. He was instrumental in the development of Marist's Investment Center and the Greystone Equity Fund, and was a driving force in the establishment of the newly-launched School of Management Career Center at Marist, which offers students and alumni an array of programs and services to help them succeed in an increasingly competitive job market.
Their dedication to philanthropy is wide-reaching. In 2000, they established the McCormick Family Foundation to provide educational opportunities for children. The foundation has played an invaluable role in the growth and success that Marist has enjoyed over the years. In addition to their foundation, the McCormicks are involved with Girls Educational & Mentoring Services (GEMS), a non-profit that provides services to sexually exploited and domestically trafficked girls and young women. Michael is also a member of the Board of Directors of Classroom, Inc., an organization that uses gaming and other technological resources to support literacy efforts in underserved communities.
About the North Campus Housing Complex
The North Campus Housing Complex is a state-of-the-art facility that offers accommodations for nearly 300 undergraduate students residing in suites with single bedrooms and common living spaces that include a generously-sized living room, kitchenette, and bathroom. The buildings also feature a large interactive community lounge, various study lounges, and a laundry facility. The complex provides enhanced community space for students, faculty, and staff. In addition to housing residential students, the fourth building in the complex boasts a fitness center and satellite dining facility, making the North Campus a vibrant hub of collegiate life. The new facilities are also designed to support academic initiatives beyond the traditional school year such as Marist's summer Pre-College programs for high school students. The lawns and open space provide spectacular views of the Hudson River. The new complex has expanded Marist's capacity to host conferences and other large-scale events that welcome guests from outside the area, allowing the College to continue to play a key role as one of the region's economic engines.