Marist Magazine
The Extraordinary Legacy of Richard Foy '50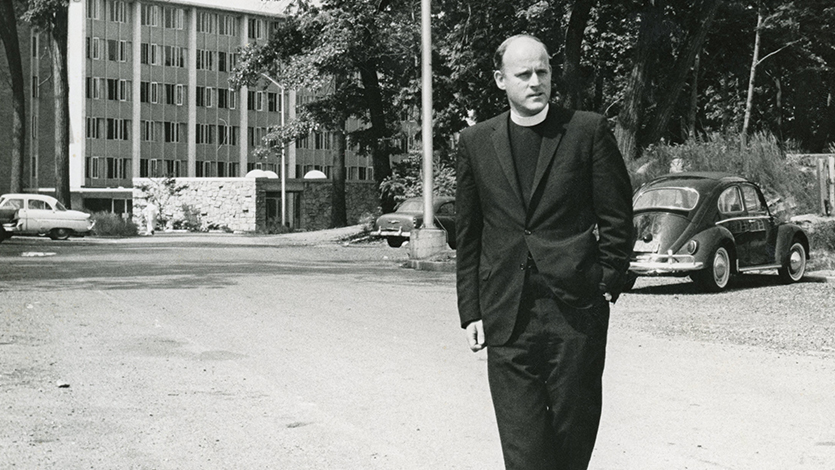 Dr. Richard Foy set the direction for Marist College's future during his dynamic tenure as president from 1958 to 1979.

This past spring, the College community mourned the passing of President Emeritus Richard Foy '50, a transformational leader and revered figure in Marist College history, who died April 16 at the age of 89. Dr. Foy led the College into a modern era that set the foundation for Marist to emerge as a nationally and internationally known institution in the decades that followed.
Dr. Foy's service spanned three critical decades for Marist, beginning with his appointment in November 1958 as the youngest college president in the United States. At 28 years old, he used his brilliant mind and boundless energy to advance a vision for the College's future. When his 21-year tenure concluded, President Foy had grown Marist's budget from $27,000 to $10 million; expanded enrollment from 130 to nearly 2,000 students; and overseen breathtaking campus expansion with the addition of 14 buildings and athletic fields. He also opened the College's doors to the surrounding community and was in the forefront of making higher education available to nontraditional students — namely, adults and young people who were disadvantaged or disabled.
Dr. Foy served as president of the College from 1958 to 1979, overseeing Marist's development into a modern, residential college. After his presidency, he had a successful career with an executive search firm, but his great commitment to the College continued. He was appointed a life trustee in 1983, providing excellent counsel to Marist's leadership for many years and representing a cherished connection to Marist's heritage. A towering figure in the history of the College community, he is remembered through the Dr. Linus Richard Foy Chair in Computer Science, Marist's first endowed chair, which was established in the president emeritus's honor in 1983, and the Dr. Linus Richard Foy '50 Town Houses overlooking the Hudson River.
The executive board of the Marist College Alumni Association recognized his contributions by establishing the prestigious Dr. Linus Richard Foy '50 Outstanding Alumnus Award, presented annually to a Marist graduate for distinguished service to a profession, the College, the nation, or humanity.
"Transformational leaders like Richard are rare," said President Dennis J. Murray in speaking about Dr. Foy. "They do two important things. They bring about major changes to their organizations, and they lead with their values. It is an understatement to say that Richard Foy brought about fundamental changes at Marist. Even at the young age of 28, he had a clear vision for the College's future, and he was enough of a risk-taker to make that vision a reality. Richard let his actions speak for themselves, and the results of his work showed his true character. He never sought attention or awards but in the Marist Brothers tradition, went about 'doing good quietly.'"
Dr. Foy pictured in Marist's 1973 yearbook
Linus Richard Foy, as he was known during his presidency — his name bridging his years as Brother Linus and as layman Dr. Richard Foy — set a direction for Marist's future by implementing significant transitions. First, he took the College from a school that did an excellent job educating Marist Brothers to one that made education available to laymen and -women, and he changed the nature of the campus by creating residential facilities for its students. At a time of great change for many Catholic colleges, he restructured the relationship between the Marist Brothers and the College, resulting in an independent institution governed by a multidenominational lay board that would honor the heritage of the Marist Brothers as an integral part of the College.
As a very young institution, Marist was unflinchingly entrepreneurial. In a 1978 interview in Marist Today, the Alumni Association magazine that later became Marist magazine, Dr. Foy explained. "I saw a rapid pattern of growth for the College, from the 130 students it had enrolled when I graduated. I suppose I was one of the first people to visualize it rapidly expanding to between 1,200 and 2,000 students. My predecessors had estimated a slow growth to eventually around 600 students who commuted every day, similar to a high school. It became clear to me that we would never survive if we took that route, so I was the one who opted to expand as rapidly as possible."
The new president made two major decisions soon after he took office. The first was instituting an adult evening division for laymen, which was a success and eventually the gateway for women to study at Marist. "The second decision," he explained, "was based on our growth projections, and that was to take the gamble and go residential." In 1960, the traditional undergraduate program opened to laymen and in 1968 it became coeducational. To support the ambitious enrollment goal, the campus needed to move beyond the small cluster of buildings that existed in 1958, comprised of the original Fontaine complex, the chapel, the Brothers' gym, Adrian Hall's student lounge, and Greystone housing the library.
Known as "the college that built itself," Marian College, which was renamed Marist College in 1960, benefited over the decades from the industrious and unpaid labor of Marist Brothers who constructed as many as a dozen major buildings. The young men were supervised by the legendary Bro. Nilus Donnelly, namesake of the iconic circular building constructed from 1958 to 1962 as the hub of an expanded Marist offering classrooms, two lecture halls, a library, a cafeteria, administrative offices, and even dormitory rooms.
However, it soon became clear that President Foy's ambitious vision to rapidly grow Marist's student body would require a bold new course. In 1961, he secured a federal loan to build a freestanding dormitory, Sheahan Hall, which became the first building on campus since 1905 that was not constructed by the Marist Brothers. In relatively quick succession, other buildings followed: Leo Hall, Byrne Residence, Champagnat Hall and Campus Center with a cafeteria and theatre, and Benoit and Gregory Houses.
Dr. Foy speaking at the 2003 dedication of the Foy Town Houses
The physical transformation of Marist was conspicuous, but the institution's academic charge was also advancing to a higher level. Marist's faculty was expanding, and a new period of faculty governance and academic innovation was underway. Although a relatively unknown school at the time, Marist began attracting faculty with advanced degrees from top schools like Princeton, the University of Chicago, Fordham, New York University, and Duke.
Marist was an exception among most Catholic schools of the era in its retention of professors from religious orders who became laicized. Dr. Foy, himself a former Brother, valued these men as excellent teachers and important conveyors of the institution's core values of educational excellence, service to others, and ethical living. The blending of these men with newer faculty, many of whom were recently minted or soon-to-be PhDs, became the core of what is known as the Heritage Professors — an honor bestowed by Marist's Board of Trustees in 2004 on faculty who served for at least 25 years prior to 1968.
One of the keys to Marist's early success was Dr. Foy's appointment of enterprising administrators, many of whom were also young, to elevate or establish vital departments focused on business affairs, admissions, academic administration, student affairs, student records, athletics, career placement, buildings and grounds, alumni relations, and public affairs. These administrators had two things in common: a desire to help build a college and the willingness to take on any challenge. The president also knew that obtaining external funding was crucial to Marist's existence, and he initiated a track record for securing government funding, including a prestigious Title III grant, as well as foundation grants. A donor base for private philanthropy was started through a development office, the forerunner to today's College Advancement division, and Marist's first capital campaign centered on an athletics facility and other priorities.
When Dr. Foy stepped down, Marist's curricula had expanded to 23 undergraduate majors, and the school was beginning a gradual transition from a liberal arts college to a comprehensive institution, as seen with the introduction of majors in business and communication and graduate study for the MBA and the MA in community psychology. The faculty, however, never lost sight of liberal arts as the core of a Marist undergraduate education, a distinction that remains to this day.
Like other aspects of Richard Foy's legacy, a number of academic initiatives begun during his tenure have endured for half a century. The Marist Abroad Program, established in 1963, placed students at institutions such as the London School of Economics, the Sorbonne, and Trinity Dublin as well as universities in South America and Africa. Today Marist's International Programs are a hallmark of a Marist education.
Marist broke ground in New York State and the country with its school–college program for high school students to complete a first year of college in the senior year. Marist was a leader in student internships, including a widely publicized one in admissions that had students recruiting the next freshman class. The Communication Internship Program with its emphasis on New York City media was the first in the Northeast. When Bennett College closed in nearby Millbrook, NY, in 1977, Marist acquired its fashion design program, providing the origin of what is now an illustrious major at the College.
Reflecting Dr. Foy's belief that education should be available to all, three initiatives started 50 or more years ago are recognized today for their excellence. Federally supported, the Upward Bound Program helps high school students from low-income families succeed in pre-college performance and ultimately in higher education. The Arthur O. Eve Higher Education Opportunity Program (HEOP), marking its 50th anniversary at Marist this year, is a partnership with the state of New York that provides economically and educationally disadvantaged students the possibility of a college education. The College was one of the first 24 institutions to adopt HEOP. Marist's Special Services Program was in the forefront nationally in supporting students with physical disabilities seeking a college education. As accessibility became more widespread on campuses, Marist's emphasis turned to students with learning disabilities who are now served by the Office of Accommodations and Accessibility. Cumulatively, an estimated five thousand students have been served by these programs with high success rates.
When Richard Foy was working on his doctorate at New York University in 1954, he wrote his first program on a Univac and began a lifelong love of computers. As his young college was evolving, the president seized on revolutionary technology to make Marist in 1967 one of the first colleges in the country to establish a computer center. The versatile Brother Nilus was named its first director and the registrar's office was the first department to automate its work. Soon students were not only accessing the center but were employed there. Using a 16k model, the largest computer in the 1401 IBM series, Marist began its exciting progression to a future status as one of the most technologically advanced colleges in the country.
The Foy family at the Foy Town Houses dedication: (left to right) Dr. Foy, his wife, Mary, daughter Dr. Bridget Foy-Pomerantz '98, and son Peter Foy '95
Not to be overlooked is Dr. Foy's passion for mathematics, which he taught equally well to high school students, Marist undergraduates, and IBM physicists studying in the evening division. He inspired a number of early alumni who followed in his footsteps, becoming distinguished professors or CEOs of major enterprises.
Recognizing the need for a fuller undergraduate experience, the president called on faculty and students to institute extracurricular programs, and the tradition of empowering students to establish clubs and organizations was born. One example is the Circle, Marist's student newspaper, which flourished in the '60s and '70s and produced a number of prominent journalists. Continuously published, its successor is the Marist Circle, which embraces both print and digital formats.
The first student club on campus was the Theatre Guild, which opened a creative floodgate for generations of students to be performers, directors, and production assistants. Theatre in all forms as well as playwriting found a home in the Student Center's theatre, precursor to the Nelly Goletti Theatre, which opened in 1965. Notably, over the past 50 years Marist Children's Theatre has delighted tens of thousands of local elementary school children with its annual spring productions.
Perhaps most ambitious was Dr. Foy's inauguration of intercollegiate athletics, and with that came the need for quality facilities and the leadership of dedicated athletic administrators and coaches. In 1960, when Marist was an all-male institution, the president developed an interest in starting a rowing program. Three years later the William Martin Boathouse was built along the Hudson River adjacent to the historic course of the Intercollegiate Rowing Association's regatta, one of the nation's premier sporting events when it was held from 1895 to 1949 in Poughkeepsie. Women's rowing began in 1974, and today Marist maintains its legacy as one of the country's top rowing programs for both men and women. In the mid '70s, Marist expanded its rowing facilities by acquiring the historic Cornell Boathouse.
The College's first major athletic facility, Leonidoff Field, was dedicated in 1968. Leonidoff, the forerunner to Tenney Stadium, became the home of the Marist Vikings, the club football program initiated and sustained by students until the College brought it under the umbrella of the Athletics Department. Today Marist's football program competes in the Football Championship Subdivision, and three former Marist football players have signed contracts with NFL teams.
The opening of the James J. McCann Recreation Center in 1977 brought Marist athletics into its own new era. With a stunning natatorium, Marist's swimming and diving program began a decades-long dynasty that endures to this day. The McCann Center also became the permanent home for the Marist men's and women's basketball teams, which have earned a combined 16 NCAA and NIT postseason bids, as well as for Marist volleyball. A large grant from the James J. McCann Charitable Trust made the McCann Center possible, and in the decades following, the trust would continue its philanthropic support to update and expand the facility, including the major project now underway.
One of President Foy's favorite quotes was from Cardinal John Henry Newman: "To live is to change and to be perfect is to have changed often." Dr. Foy took this to heart both professionally and personally. In an interview marking his 20th year as Marist's leader, he said, "One of the interesting things about being a college president is that you're in a situation where people around you are constantly changing. The students' values and perspectives are always changing and this has a tremendous impact on you if you work closely with them as I try to do. My whole value system is constantly growing and changing because of that."
Throughout his tenure, President Foy embraced change for Marist and for himself. With his values and his vision, his capacity to break ground and take risks, and his enormous intellect and work ethic, Linus Richard Foy vigorously led Marist College into a new era that made all the difference for the extraordinary future that lay ahead.