Academics
Meet the 2018 Tarver Interns
The 2018 Tarver Interns (L-R): Elena Tesluk, Sreya Sobti, Noelle Snyder, Shaelynn Kelly, Megan Nickel, and Sage Kawelo, all '19.
Service and experiential learning are key components of the Marist educational experience, and for the fifth consecutive year, the Tarver Summer Internship Program has given undergraduates the opportunity to work on a community improvement project by interning at a local non-profit organization. The interns spend the summer making the Hudson River Valley a better place to live and learning about themselves in the process. It is a profound and meaningful experience for the students, and their good work continues on after them, benefiting both the non-profit organizations and the people they serve.
The Tarver Summer Internship Program comes under the auspices of Marist's Center for Civic Engagement and Leadership (CCEL), directed by Professional Lecturer in Political Science Melissa Gaeke. In Director Gaeke's words, "The students work so hard all summer and end up learning so much about themselves and their aspirations. It's a beneficial and transformative experience." The program honors the exceptional accomplishments of local community leader Marie Tarver and her husband, the late Rupert Tarver, a renowned civil rights pioneer in the Hudson River Valley. Student participants receive a stipend, three tuition credits, and on-campus housing for the summer. Tarver Interns work closely with their Marist faculty sponsor and non-profit site supervisor to design an internship project, identify the key issues their work will address, and complete agreed-upon goals and objectives. This year's faculty mentors were Associate Professor of Political Science Jessica Boscarino, Assistant Professor of Spanish Patricia Ferrer, and Associate Professor of Social Work Daria Hanssen.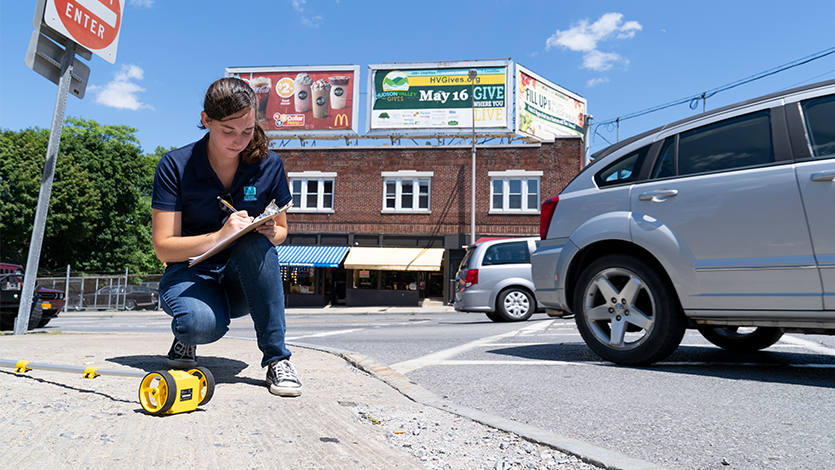 Megan Nickel at work in the City of Poughkeepsie.
Megan Nickel '19 is an environmental science major from Pompton Plains, New Jersey. She worked with Scenic Hudson, an organization that preserves land and farms and creates parks that connect people with the inspirational power of the Hudson River, while fighting threats to the river and natural resources. As part of her project, Megan standardized more than 1,500 data points, transformed the raw data into maps, created a set of recommendations, and documented the data collection methods for future mapping efforts. The resulting report, Poughkeepsie Northside Pedestrian Needs Assessment, will help the City of Poughkeepsie prioritize sidewalk and crosswalk improvements in the near future. Megan's supervisor Jeff Anzevino, Scenic Hudson's Director of Land Use Advocacy, called her a "consummate professional" and praised her contribution to this important project.
Sage Kawelo '19, a history major from Waianae, Hawaii, worked with Hudson River Housing on the community development team of the organization's Middle Main Initiative, which works with local residents and businesses to revitalize Poughkeepsie's Main Street district. Over the summer, in addition to her regular duties, Sage developed and produced a magazine called Pioneers, which highlights Poughkeepsie's "unsung heroes." The magazine is written in both English and Spanish and when printed, it will be distributed to schools, churches, and other community hubs.
Shaelynn Kelly '19 is from Hoosick Falls, New York and is majoring in psychology. This summer, she worked with The Children's Home of Poughkeepsie on a project that documents empathy in the children residing there. She developed a tool that allows staff members to capture their observations of these positive behaviors. This work has contributed to an ongoing research project conducted by Dr. David Crenshaw, the organization's Clinical Director. For the past 169 years, the Children's Home has provided a safe and nurturing environment that improves lives and empowers at-risk children and families in the Hudson River Valley. When asked about the experience, Shaelynn commented, "The Tarver program has allowed me to have an in-depth, meaningful experience in an organization that I was already passionate about. Unlike other internship opportunities, Tarver provided a platform to create a project that would be useful for the organization. The sense of pride that I felt after creating something that will impact the training of future interns and staff members is what I will hold on to for years to come."
Noelle Snyder '19, a psychology major from Kinnelon, New Jersey, worked at the Children's Center, which provides programming to children whose parents are attending hearings at the Dutchess County Family Court. In addition to preparing for and engaging with the children who came into Center, Noelle developed an Expressive Arts toolkit that includes a curriculum and readings that will be used by future interns. The Children's Center is an initiative of Family Services, an organization that has provided social services to residents of the Mid-Hudson Valley since 1879.
Sreya Sobti '19, a double major in criminal justice and psychology, hails from Kolkata, India. This summer, she interned with the advocacy team at The Grace Smith House, an agency providing both residential and non-residential services to victims of domestic violence and their children. In addition to helping staff prepare legal filings and support clients while in court, Sreya developed a manual that provides detailed step-by-step instructions that will assist staff as they prepare Family Offense Petitions and Orders of Protection. When asked what the summer has meant to her, Sreya remarked, "Being a Tarver this summer helped me grow as a person. I was able to do so by making lasting connections, networking in our local community, and spending time with like-minded people who belong to impactful organizations."
Elena Tesluk at the Poughkeepsie Farm Project.
Elena Tesluk '19 is a political science major from Tucson, Arizona, and this summer, she worked with the education team at The Poughkeepsie Farm Project, a member-supported farm in the City of Poughkeepsie that grows fresh vegetables and fruit for a CSA (community-supported agriculture), trains future farmers, provides hands-on educational programs, and improves access to healthy locally-grown food. When she wasn't busy leading educational activities with local youth or assisting the farm crew, Elena oversaw the development of their seed saving program, which allows the farm to not only keep seeds, but preserve Poughkeepsie's cultural heritage. Jamie Levato, the Farm Project's Education Director commented, "Elena's deep interest in saving seeds has helped us to revitalize our seed saving program. We are grateful for her passion and commitment to the project."
Reflecting on this year's program, Director Gaeke noted, "What made this summer so successful was the hands-on involvement of our community partners. Their commitment to the learning experience can be best seen by our new 'tradition' of holding open houses at each organization, an idea proposed by Randi Chalfin of Family Services. Our partners' interest in actively participating in the program and learning about the work of the other organizations really illustrates the importance of relationship-building." After five years, the Tarver Summer Internship Program is stronger than ever and poised for continued success, which will greatly benefit both Marist students and the local community.