Rankings & Recognition
A Tale of Two Transfers: Julia DiMarzo '18 and Sam Fontanez '18
May 14, 2018 — Julia DiMarzo and Sam Fontanez came to Marist for different reasons, but they do share something in common: both were transfer students.
For DiMarzo, the college where she began her freshman year just wasn't a good fit, and she realized that early on. She immediately started seeking out other options and came to Marist as a second-semester freshman. Fontanez admits he initially didn't take college too seriously, but he hunkered down in community college, found a passion for history, earned an associate's degree, and decided to further his education.
Hundreds of students have transferred to Marist and have experienced what it is like to be a member of the Red Fox community."The College is very committed to making a Marist education available to transfer students," said Director of Transfer Admissions Jaclyn Fitzgerald. "As a transfer-friendly institution, we are able to meet the needs of these students and help them enter the college community and build relationships with staff and faculty members."
Fit is It
"I wasn't sure what I wanted to do when I was a senior in high school," DiMarzo explained. Though active in theater and choir, she didn't have a clear sense of what she was looking for in a college. She was accepted to a school and enrolled, but it quickly became apparent to her that the fit wasn't quite right. "I was surrounded largely by education and nursing majors, and that felt limiting."
DiMarzo quickly started the college search again, this time thinking she would like to live at home in Hyde Park, New York. She decided to look at Marist—her parents' alma mater.
"I came to a performance here and was so impressed that all the student cast members' bios showed that they were involved with multiple things on campus. I really liked that." DiMarzo came to an information session and ended up enrolling as a second-semester freshman with a major in fashion merchandising.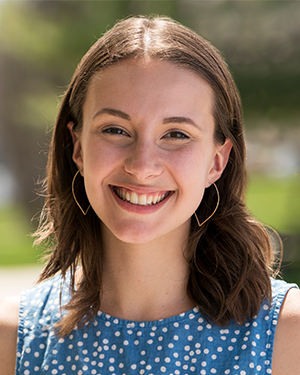 While she found that commuting was a little tricky at first ("It was easy to go home and not go back to campus for club meetings."), she pushed herself to be involved in campus activities and it paid off. She has been active in the Marist Singers and Chamber Choir. This year, DiMarzo was the lead in the Marist College Club of Theatre Arts production of Anything Goes and also handled all the graphic design for promotional materials. In addition, she is a member of the Transfer Students' Advisory Board.
To have a "best of both worlds" experience, DiMarzo also lived on campus as a senior.
Her advice to students consider transferring? "Don't be afraid to make a move. Look around at other schools and see what's out there that might suit you better." For DiMarzo, switching gears was the best possible decision, and she cautions students considering transferring not to look at it as a failure. "I did feel bad about it, especially leaving my first school after one semester, but I wasn't happy. Sometimes I don't trust my gut, but I'm glad I did then."
After graduation, DiMarzo will get to pursue her interest in theater full-time as a marketing intern for New York Stage and Film (NYSAF). She'll spend the summer working at NYSAF and Vassar College's highly-regarded Powerhouse Theater Program.
Getting Serious
Fontanez's path to Marist was different from DiMarzo's. "I wasn't mature enough right out of high school," Fontanez said. "I was living with friends and attending Ulster Community College, playing on the baseball team, and just not taking academics very seriously."
At the end of that year, Fontanez moved back home to Middletown, New York, with his father and enrolled at Orange County Community College (OCCC). That move proved to be a game changer. "I really came into my own at OCCC. I dedicated myself to my studies and baseball came second." It soon became clear to Fontanez that he wanted to study history and continue his education to earn a four-year degree.
Fontanez and his mother hit the road, visiting various colleges near her home in North Carolina. He decided to visit Marist because he was looking for a quality history program and was also interested in remaining in the region. "I was impressed by Marist's History Department, and also by how the rich history of the Hudson Valley is part of it," Fontanez explained.
Fontanez entered Marist as a junior and has been commuting for two years. "There's a misconception that if you don't live on campus you're not part of things," Fontanez offered. For him, this just wasn't the case. He structured his schedule to have three full days on campus, allowing him to be a tutor. Like DiMarzo, he's also a member of the Transfer Students' Advisory Board and participates in information sessions for prospective students. He interned in Albany last summer, working as a legislative aide for State Senator Terrence Murphy. This year, he has been working with the historian for the Town of Poughkeepsie and has also conducted research on African-American history for the Dutchess County Historical Society.
This month, he'll graduate with a degree in history. He's considering either pursuing a master's degree in teaching or attending law school.
Fontanez said there's only one downside of being a transfer student at Marist. "My two years here went by so fast."