Alumni
Celebrating a Successful Campaign
The Campaign for Marist, the College's first comprehensive fundraising campaign, concluded successfully on Dec. 31, 2012, after exceeding its $150 million goal.
The effort surpassed its goal a year ahead of schedule, reaching a total of $159,558,240.
"The College is grateful to the more than 14,000 alumni, parents, and friends who supported a wide range of institutional funding priorities throughout the campaign," said President Dennis J. Murray. "Their vital contributions, combined with generous gifts and grants from foundations, corporations, and state and federal government sources, have had a transformative effect on Marist and helped us solidify our standing as one of the premier colleges in the nation."
The campaign has had a profound impact:
A total of 14,388 donors participated, representing many segments of the College community: alumni, trustees, parents, friends, faculty, staff, students, foundations, and corporations.
21 gifts were made of $1 million or more
41 new endowed scholarships were established
40 existing scholarships were strengthened
Marist received the largest gift in its history, an extraordinary $75 million bequest from the estate of Raymond A. Rich that included the Colonel Oliver Hazard Payne Mansion, a historic waterfront estate on 60 acres in Esopus, NY, and $10 million in cash to enable the development of the Raymond A. Rich Institute for Leadership Development
The campaign supported a variety of important capital projects: the Hancock Center, Tenney Stadium at Leonidoff Field, the Lower Fulton Townhouses, a pedestrian walkway under Route 9, gates at each campus entrance, new chemistry labs, restoration of the historic Cornell Boathouse, and major upgrades and an addition to the James J. McCann Recreation Center
New research funds and faculty positions were established (please see the story on the Dr. Frank T. Bumpus Chair on Page 9)
Support was generated for special collections the Reese Papers and the Lowell Thomas Papers, which contain historic, unique films, documents, and artifacts
Funding is bolstering the work of Marist's premier centers of excellence, the Marist Institute for Public Opinion, the Investment Center, and the Hudson River Valley Institute
Prestigious grants from federal agencies such as the National Science Foundation provided funding in several areas of need including technology infrastructure.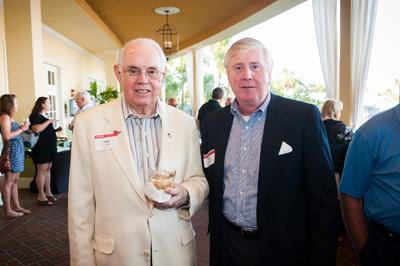 A series of campaign celebrations began in February 2013 at LaPlaya Beach & Golf Resort in Naples, FL. Guests included Trustee John O'Shea (left) and Jim Joyce '74.
Guests at the reception at LaPlaya Beach & Golf Resort also included (left to right) Tom and Ann Wade, Jeptha Lanning '53, President Dennis Murray, Joan Lanning, and Barbara LaPietra.
Next was a party in March in Marist's McCann Arena in Poughkeepsie.
Guests at the celebration in the McCann Arena included (left to right) Colleen Kollar '16, Nicholas Cipriano '16, Brianna Tierney '16, Abigail Sauers '16, Abigail Baughman '15, and Anthony David Izzo.'11M.
In April the celebration continued with a cocktail reception and dinner at the Metropolitan Club in New York City.
Among the guests were (left to right) Madeline Nick, Nicholas Bayer '16, Board of Trustees Chair Ellen Hancock, Natalie Nick '13 ...
... (left to right) Michael Sterchak '07, Loren and David Skrodanes '83, Marie (Esperancilla) Wicks '86, Brian and Maria Gordon Shydlo '87 ...
... (left to right) Trustee Mark Dennis and his wife, Gisella, Trustee Chris McCann '83 and his wife, Kathy (Ferry) '83, Rob Powers '84, and ...
... Marilyn Murray and Trustee Susan Cohen.
Board of Trustees Chair Ellen Hancock says the campaign has made a significant contribution to the College not only in terms of buildings and grounds but also scholarships and grants. "The board was very much involved in the process, and we are pleased that we went past the goal, which is an indication of the passion and the clarity of intention that the board showed."
"The idea behind philanthropy is that it's not buildings, it's not hardware, it's not assets," says Trustee Rob Dyson. "What you're doing in philanthropy is you're supporting people. And in supporting people it may take assets, it may take buildings."
An initial quiet phase raised $45 million toward the campaign's $75 million goal through leadership from trustees, alumni, parents, and friends of the College. The campaign was publicly launched in 2007 at a reception in New York City. Following the bequest from Raymond A. Rich in 2009, the goal was doubled to $150 million.
Marist Trustee Tim Brier '69, who chaired the campaign, was one of the first to make a gift. "Marist is a very important institution to me," said Brier. "It's where I learned the skills that I've used during my career and my journey through life. It's where the values that I've adopted were refined and reinforced. And it's where I made a lot of lasting relationships that have been very important to me throughout my life. So from my perspective, it's important to give back to the institution, to provide for those who come after us the same opportunities."
"The campaign has established tremendous momentum for Marist's development effort, the impact of which will be felt long into the future," says Chris DelGiorno '88, Marist's vice president for college advancement. "The considerable outpouring of support from all areas of the Marist community has been incredibly gratifying, and I look forward with great enthusiasm to the exciting opportunities awaiting the College in the years ahead."
The end of the campaign doesn't mean the end of exciting developments at Marist. A new academic building, now under construction at a cost of more than $30 million, will house the College's Music Program. The project also includes renovation of the Nelly Goletti Theatre, student activities space, public areas of the Student Center, and the dining hall.