Academics
Latest Marist Fulbright Winners Will Teach English in South Africa, Malaysia
Marist continues streak of having multiple students win prestigious award
Marist continues to build on its reputation as a "Top Producer" of Fulbrights with two members of the Class of 2017 winning the prestigious awards in the latest round. These seniors bring to 23 the number of Marist students to receive a Fulbright.
Darriel McBride '17 (right), an English major from the Bronx, was awarded a Fulbright U.S. Student Program grant to serve as an English Teaching Assistant in South Africa. McBride is also a Gates Millenium Scholar and a Humanity in Action Scholar, through which she will spend a month in Europe this summer exploring issues of justice for underrepresented populations. She has also been accepted by New York University's master's program in international education.
McBride says she was inspired to continue her passion for cultural exchange after being the first Marist student to study in Western Samoa and following homestays in Fiji, Samoa, and American Samoa.
She said she knew she would apply for a Fulbright since her first year at Marist.
"My interest in the South Africa program, in particular, stems from a very personal place," she said.
"I was intrigued by the country's rich history and current efforts towards social change and education equity," she continued. "I applied for the Fulbright there to explore my African ancestry, while learning more about the unique South African identity in comparison to my own."
McBride said she "wanted to pursue an opportunity that would enable me to make an impact on the lives of my students and the individuals I meet along the way, while expanding and reshaping my world view."
Samantha Monroe '17 (below), a psychology/special education major from Simsbury, Conn. was awarded the same grant to work in Malaysia, where she will teach English to middle and high school students and hopes to be placed in a school offering special education programs.
Monroe recalls meeting the news of her Fulbright with a mix of excitement and disbelief.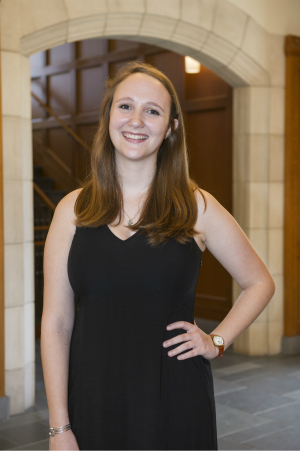 "When I found out I got the Fulbright, I was completely ecstatic!" she recalled. "It didn't feel real and I had to read the email three times over before I believed it."
As part of the exchange, Monroe explained, "I also get to be a part of after school programming, so I'm hoping to create a dance- or theater-based program, as well as join some kind of outdoor club like hiking or kayaking because I love doing things like that, and I would love to get to see more of the country."
"I also want to travel as much as I can," she said, "and see as much of Malaysia as I am able to during my 10 months."
The Fulbright Program, the U.S. government's flagship international educational exchange program, is sponsored by the Bureau of Educational and Cultural Affairs of the U.S. Department of State.
The Bureau cited Marist as one of the U.S. colleges and universities that produced the most recipients of its U.S. Student Program Grants for 2015–16.
Four Marist alumni won Fulbright awards for the 2015–16 academic year, earning the College the desgnation as a "Top Producer" of award winners, putting it on par with just 24 other master's institutions nationally.
Marist was also named a top producer for 2014–2015.