Marist Poll Closes Out a Busy Fall Semester with Guest Speaker Amy Walter
Amy Walter, National Editor of The Cook Political Report, was on campus December 13 at the Marist College Institute for Public Opinion (MIPO) to wrap up an eventful fall semester of scientific polling, expert guest speakers, and astute political analysis. During her visit, she spoke with a group of Marist students about the Alabama Senate race, the 2018 midterm elections, and other current events. She was also a guest on The Marist Poll's weekly podcast Poll Hub.
Ms. Walter is the latest in a long line of distinguished leaders from the worlds of politics and media to address students in MIPO Director Lee Miringoff's "Public Opinion and Politics" and "Polling and the Media" classes. This semester, speakers have included Jay DeDapper, political journalist, tech entrepreneur, and MIPO's Director of Innovation; Amy Chozick, National Political Correspondent for The New York Times; Jay Townsend, political consultant; Robert Bellafiore of Stanhope Partners; Steve Greenberg of Greenberg Public Relations; Steve Thomma, Executive Director of the White House Correspondents' Association; David Lightman, National Political Correspondent and Congressional Reporter for McClatchy News Service; and Ronald Brownstein, Senior Editor of The Atlantic and Senior Political Analyst for CNN.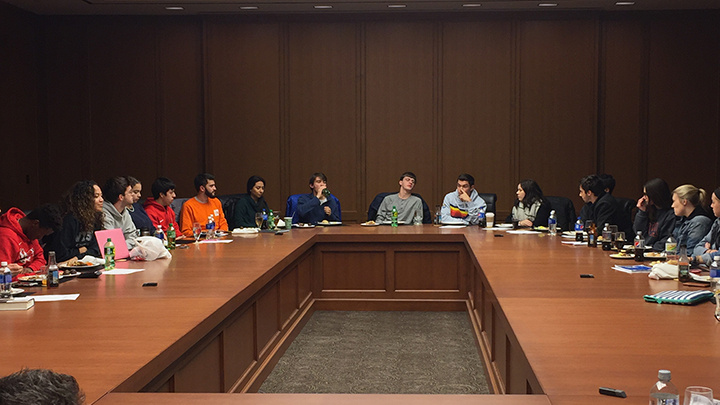 About PollHub
Poll Hub was launched earlier this semester, and its goal is to go behind the science to explain how polling works, what polls really show, and what the numbers really mean. The weekly Poll Hub podcast is hosted by Dr. Miringoff, Marist Poll Director Barbara Carvalho, and Mr. DeDapper, who dig into the inner workings of the latest poll headlines and what they mean for our world, our country, and ourselves.
Recent Poll Hub episodes have covered a variety of contemporary topics: The Future of Public Opinion Polls, The Realignment of America's Political Parties, What's in an Approval Rating?, Sexual Harassment in the Workplace, and The Opioid Crisis in America. Poll Hub is a production of The Marist Poll and is recorded at Marist College under the direction of its executive producer and MIPO's Director of Media Initiatives and Polling News, Mary Griffith. Episodes are typically edited, published, and uploaded to social media hours after recording. Poll Hub may be found wherever you listen to podcasts including iTunes, Stitcher, and TuneIn.
[embed poll hub podcast]
About The Marist Poll
The Marist College Institute for Public Opinion is the nation's oldest undergraduate college-based survey research center. The Marist Poll has been widely praised for its independence and accuracy, as well as for the integrity of its survey methods. In 2016, Bloomberg Politics ranked the NBC News/Wall Street Journal/Marist Poll number one in the country for its accuracy, beating out 12 other polling organizations for that distinction.
The Marist Poll works both independently and with distinguished media partners to conduct scientific survey research. Its partners include National Public Radio, The PBS NewsHour, NBC News, NBC 4 New York, The Wall Street Journal, and HBO's Real Sports with Bryant Gumbel. It conducts polling at the national, state, and local levels on topics ranging from President Trump's approval ratings to the New Jersey governor's race to political protests by professional athletes.
A unique aspect of the Marist Poll is its educational focus and programs. Marist students are at the core of MIPO's mission. They conduct its polling and are introduced to the world of public opinion through research, courses, seminars, events, internships, and employment opportunities. More than 300 students from all academic disciplines take part in The Marist Poll's survey operations each semester. They see the democratic process up close and interact with experts in the fields of polling, media, politics, and marketing. According to Dr. Miringoff, "Participation in The Marist Poll helps our students develop key communication skills, exposes them to nationally-known journalists and experts, and opens up a whole vista of educational and career possibilities." Dr. Carvalho notes, "In addition to the many educational opportunities available at The Marist Poll, all students who participate in the Institute's research activities receive extensive training, feedback, and supervision from MIPO's professional staff and student coaches."
This spring, The Marist Poll will pilot a student newsroom. Through educational modules and hands-on mentoring from MIPO's professionals, students will work on creating polling and research content for distribution on The Marist Poll's multi-media channels.
Earlier this year, the Marist Poll hosted a panel discussion at the Newseum in Washington, D.C. entitled Changing America: What's at Stake? The panel featured the insights of distinguished political journalists E.J. Dionne, Jr., Senior Fellow at the Brookings Institution and columnist for The Washington Post; Maggie Haberman, White House Correspondent for The New York Times; Mark Murray, Senior Political Editor for NBC News; and Amy Walter, National Editor for The Cook Political Report. The panel discussion was moderated by Dr. Miringoff and Dr. Carvalho, and the event was live-streamed for those unable to attend in Washington.
For more on The Marist Poll, please visit http://maristpoll.marist.edu/.
About Marist
Located on the banks of the historic Hudson River and at its Florence, Italy branch campus, Marist College is a comprehensive, independent institution grounded in the liberal arts. Its mission is to "help students develop the intellect, character, and skills required for enlightened, ethical, and productive lives in the global community of the 21st century." Marist is consistently recognized for excellence by The Princeton Review (Colleges That Create Futures and The Best 381 Colleges), U.S. News & World Report (9th Best Regional University/North), Kiplinger's Personal Finance ("Best College Values"), and others. Though now independent, Marist remains committed to the ideals handed down from its founders, the Marist Brothers: excellence in education, a sense of community, and a commitment to service. Marist educates approximately 5,000 traditional-age undergraduate students and 1,400 adult and graduate students in 47 undergraduate majors and 14 graduate programs, including fully online MBA, MPA, MS, and MA degrees.