Students talking in front of posters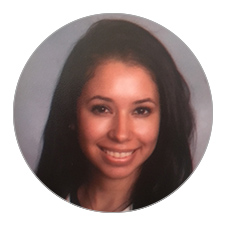 Julissa Marcano
Montgomery, NY
Academic School
Social and Behavioral Sciences
Campus
New York
Julissa Marcano is a member of Marist's M.A. in School Psychology Class of 2019. She holds a BA in Psychology with a minor in Mass Communication from Iona College. She is currently employed as a substitute teacher for the Valley Central School District.
Why did you choose to pursue your graduate degree at Marist?
There are many reasons why I chose to pursue my graduate degree at Marist. The cohorts are small and this is important to me because it gives me the opportunity to establish relationships with faculty and candidates. The faculty is another reason why I chose Marist. Most of the professors have a past experience as working school psychologists where they relate real experience to what we are learning in class. They also have a passion for school psychology and bettering the lives of children as a whole, which make learning exciting. The professors are involved and willing to help and work on research projects that further our professional development.
Tell us about a project or course that was particularly meaningful to your professional development:
If I had to choose one, I would choose multicultural counseling. I am currently in this class and it is teaching us to become aware of our own culture as well as the cultures of others. It is providing us with knowledge and the skills necessary to provide appropriate and effective services to students who come from different backgrounds.
Why did you choose to participate in the SSBS Graduate Assistantship program?
I chose to participate in the graduate assistantship program because I knew it would help me financially. I also wanted the opportunity to further my research interest.
What kind of work did you do for the SSBS Assistantship?
My particular interest lies in the study of mindfulness and how it can promote higher levels of well-being in the classroom. School populations that can benefit from mindfulness practices include students faced with internalizing disorders, externalizing disorders, problems with executive functioning and ADHD. As school psychologists are some of the most likely school personnel to instruct mindfulness strategies to teachers and students as a technique to enhance a student's well-being in class, I believe it is important for school psychologists to practice such techniques to increase the validity of intervention delivery. Through my assistantship, I was given the opportunity to connect with Dr. Stone, whose interest aligned with mine. We conducted research on New York State school psychologists to examine reported levels of mindfulness. Results showed that those who reported higher levels of mindful awareness also reported higher levels of life satisfaction, more compassion for oneself and others and lower levels of perceived stress. I was able to present this research at the New York Association of School Psychologists' Conference 2017 in White Plains, NY. This was an amazing experience and provided me the opportunity to further my professional development as well as network with school psychologists throughout the state.
How has the assistantship and graduate program helped you grow as a professional?
I have improved skills in collecting data and researching effective-based interventions. Effective skills in research are essential as a current graduate student and my role as a future school psychologist. This has also given me the opportunity to enhance my knowledge in the area of mental health services that can help develop social and life skills for students of all ages.
What advice would you give to a student considering pursuing a graduate degree at Marist and applying for the assistantship program?
My main advice would be to effectively manage your time and stay involved! Make yourself available to help and further your knowledge. Marist is great and gives so many opportunities to enhance your experiences as a school psychologist in training, take advantage of these opportunities and help yourself grow!