Students talking to each other in front of posters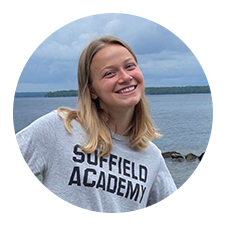 Katelyn Killam
Suffield, CT
Academic School
Social and Behavioral Sciences
Campus
New York
What made you decide to attend Marist?
There was something about the community at Marist that I just couldn't shake after my tour. This was further reinforced by the support I received from the Admissions Office and the current transfer students at the time. Everyone, it seemed, wanted me to experience just how special Marist was. Marist made me feel like I was more than just a transfer student - they made me feel like I was already a valuable part of the community before I even put my deposit down. The support, kindness, and encouragement ultimately made me decide to attend Marist.
What kind of support services did Marist offer to ease in your transition?
One of my favorite support systems Marist offered to ease the transition was the Transfer Seminar. This is a one-credit course offered to all transfer students, which essentially is a class that goes over any and all questions regarding Marist. This class is where I was able to make a 4-year plan for myself, meet new people, and become more comfortable as a Marist student.
What helped you the most during your first few weeks as a Red Fox?
Knowing that I was not in it alone helped me the most during my first few weeks at Marist. Coming to a brand new school was intimidating. I did not know a lot of people other than my suitemates and I was unfamiliar with the campus as a whole. However, not everyone has their entire life figured out sophomore year of college. Knowing that a majority of people were going through the same uncertainties as I was (because this was also in the middle of a pandemic) really encouraged me to feel less scared of asking questions and putting myself out there. It was also a good feeling to know that I always had my suitemates, who were also transfers. We would all go to events together and help each other out with all things Marist.
What is your favorite Marist memory so far?
So far, my favorite Marist memory has to be when my friend and I decided to try out as models for the Silver Needle Runway Show. My friend and I had no previous fashion experience before this, but we both thought that trying out would be something exciting and fun. Even though we didn't end up being chosen, I will never forget how hard I was laughing as we were practicing our walks and poses in my dorm with music playing the night before and then dressing up for the audition.
What is one piece of advice you would give a prospective transfer student?
Do not let being a transfer student define who you are and what you want to pursue. When I first got to Marist, I automatically assumed that everyone knew I was a transfer - which was ridiculous. Marist has 5,600 undergraduate students, so how would they all know? I walked around like I had a name tag saying I was a transfer student, letting this define who I was. My advice would be to just be yourself. At Marist, everyone is open to meeting new people and they will support you no matter what you want to try. Be open to trying new things and meeting different people, because you never know where it could lead you.