An image of students talking in front of posters.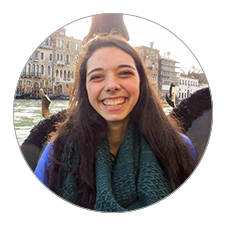 Maggie Lyman
Simsbury, CT
Academic School
Social and Behavioral Sciences
Campus
Italy, New York
Maggie Lyman is a senior from Simsbury, CT majoring in social work and minoring in psychology. She is a member of the Honors Program at Marist and is currently working on her senior thesis project. Maggie has interned at two non-profits in Poughkeepsie during her time at Marist, and she currently serves on the Board of Directors for Youth Mission Outreach. In addition to her internship experience, Maggie served as the Executive Director of the Marist St. Jude Up 'til Dawn initiative during fall 2017 and currently serves as the Vice President for Hillel.
What made you decide to come to Marist?
Four years ago I applied early decision to Marist. What I liked about Marist when I visited was that I could tell that people had a lot of school spirit. I liked that there were a lot of clubs, and clubs were important to me because I was really involved in high school. I liked that it was a liberal arts school because I didn't know what I wanted to major in. Marist also has a really good study abroad program; the Florence campus was important to me, I definitely wanted to study abroad.
Where did you study abroad and what was your experience like?
The second semester of my sophomore year, I studied abroad in Florence; I went to the Marist campus. What was great about going as a sophomore is that I didn't know many people, so everyone I met was a new friend, even the people that I did know, they really did become new friends.
Can you tell me a little bit about your internship experiences?
What is nice with the social work department is that we have a fieldwork practicum. So I had two internships, one that I found on my own, and one through the social work program. Last year I interned at a non-profit in Poughkeepsie called Youth Mission Outreach (YMO), and did some program development, some fundraising, and outreach work, and helped out at some of their weekly programs. I also served on their Board of Directors and still continue to do that this year. This year I am interning two full days a week at Abilities First, which is a non-profit that has services for adults and children with developmental disabilities. I lead some groups and I do a lot of shadowing of different social workers and caseworkers in their agency.
Which clubs have had the biggest impact on your experience here?
I've been in Hillel for four years, and that's been great; I helped get the club chartered. I've been on the board for the past couple of years. I was in Marist Singers for my first two years, and it's how I met a lot of my friends. I also was on the board of St. Jude Up 'til Dawn for two years. St. Jude's a great organization. Being a part of that board gave me a lot of leadership experience.
Can you talk about your experience in the Honors Program?
The classes I've taken in the honors program have usually been my favorite of the semester. They're all small class sizes, very discussion based, and interesting topics with great professors. It's really opened my eyes to different areas of knowledge and learning. Also in the Honors Program, you get to do a thesis project your senior year where you work one on one with a professor on a topic of interest. It can be a civic engagement project or a traditional research and thesis project, and that's been great to have that independence and become so knowledgeable about one topic.
What advice would you give to high school students considering Marist?
While certain schools may seem like a great fit when you're 17, you might outgrow it by the time you're 22. Make sure that whatever school you choose has aspects that will always be important to you.
Written by Nicole Benedetto '18