Students talking to each other in front of posters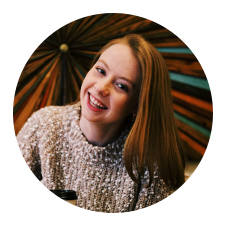 Sarah Lynch
Interlaken, NJ
Academic School
Liberal Arts, Communication & the Arts
Campus
New York
Congratulations to Sarah Lynch '21, a communication major from Interlaken, New Jersey who has been awarded a prestigious academic scholarship by New York Women in Communications (NYWICI), an organization that supports the advancement of women in the field of communications. Lynch will be among 14 scholarship recipients recognized at the Matrix Awards on May 6 in New York City. The Matrix Awards honor the communications industry's most influential female leaders and are hosted by Bloomberg Media Group; the event is typically attended by more than 1,000 people. This year's emcee is MSNBC's Mika Brzezinski, and the honorees include CBS News journalist Norah O'Donnell and author and television host Padma Lakshmi.
NYWICI scholarships are given to graduating high school seniors, undergraduates, and graduate students who intend to pursue or further a career in communications. They recognize academic excellence, leadership, and commitment to the industry. Says Lynch, "It's honestly hard to put into words what this honor means to me. I won my first scholarship from NYWICI when I was a senior in high school, and that endorsement fundamentally transformed my inner confidence and the way I approach classes, internships, and life in general." Since then, Lynch has become deeply involved in the professional organization, serving on its Student Affairs Committee and helping plan events for students at NBC and the Food Network. With the support of Assistant Professor of Communication/Journalism Kevin Lerner, she successfully applied for additional scholarship assistance from NYWICI, which has issued more than $1.7 million in support to date. In addition to Lynch, this year's scholarship recipients represent schools including Columbia University, American University, and New York University.
Lynch received the Pat O'Connell Memorial Scholarship, which honors NYWICI's past president, a New York Herald Tribune journalist who passed away in January. The scholarship is worth $3,400 and includes a year's membership to NYWICI. Lynch noted, "I got my acceptance call from Catherine Carlozzi, an amazing mentor of mine and a dear friend of Pat O'Connell's. She told me all about O'Connell's remarkable career and commitment to helping other women. She left big shoes to fill, and I feel blessed to receive a scholarship in her name."
In addition to her communication major, Lynch minors in English literature, and she is also a member of Marist's Honors Program, which makes her extremely well rounded. Says Lerner, "I know Sarah from an Honors seminar about 'fake news,' and it was clear to me that she was a standout, and a leader even in a class full of exceptional students." He goes on to add, "She was part of a group that gave a final presentation that was so professional that it could have been a part of a continuing education program for professional journalists." One of the strengths of Marist's communication program is that it teaches not only the pre-professional skills students need to thrive in the workplace, but also the type of critical thinking that is rooted in a liberal arts education. This combination helps students become both outstanding workers and thought leaders in their professions.
Lynch is already assiduously preparing for a future career in communications, making connections and gaining professional experience. Lynch serves as features editor of the student newspaper The Circle, as well as editor-in-chief of Her Campus Marist. She recently had the opportunity to meet NBC Nightly News host Lester Holt at Marist's New York City Executive Center, a unique opportunity she won't soon forget. For the past two years, Lynch has held a public relations internship at M studio, a design and marketing firm in Asbury Park, New Jersey, and she also completed a remote editorial internship with Study Breaks magazine. While she still has two years of college to go, she does know that "I can't picture myself in a career that doesn't allow me to write. Ultimately, my dream is to work in the magazine world and continue to write about issues I care about like wellness, culture, and gender." In the meantime, Lynch's summer plans are already set: she just accepted an internship at Gallery Media Group in New York City as an editorial and social media intern.