Student Achievement
An Internship to Remember
Natalie Slawuta '20 spent the fall semester in the White House working to address the opioid crisis. After graduation, she plans to either go back into public service or pursue a career on Wall Street.
February 24, 2020—The White House is one of the quintessential symbols of America, so it was especially meaningful for Natalie Slawuta '20 to secure an internship there. As Slawuta tells it, "As the daughter of immigrants from Poland, I've always been drawn to public service, so the chance to give back to my country in this way was incredible." White House internships aren't easy to obtain, however. Thousands apply for the roughly 65 spots in the internship class, submitting multiple essays and undergoing a rigorous background screening (including social media) apart from the requisite interviews. Slawuta recalls that when she finally got the call offering her the job, she cried tears of happiness.
This past September, Slawuta began work in the Office of the Senior Counselor to the President, focusing primarily on the opioid crisis, but also on other bipartisan issues like military spouse employment. As an intern in the Office of the Senior Counselor, Slawuta conducted policy research, attended meetings, summarized polling results, and drafted speeches. Like many others, Slawuta knows people affected firsthand by the opioid crisis, so it was particularly gratifying for her to work on this issue and see the progress being made. Provisional data released by the Centers for Disease Control and Prevention shows that fatal drug overdoses fell 5.1 percent from 2017 to 2018, and the number of first-time heroin users aged 12+ fell by more than 50 percent between 2016 and 2017. Slawuta hopes that this positive momentum continues with the recent addition of $6 billion in new funding to fight opioid abuse.
No two days at the White House are alike, of course, and that's what makes it so interesting. Slawuta recalls the time when the Australian prime minister came for a state visit: "It was all hands on deck. We were up at 3 a.m. to start getting ready!" Many other moments stand out, like hearing talks from senior administration officials, watching Marine One land on the White House lawn, viewing the annual Christmas tree lighting, or being there when the Stanley Cup champion St. Louis Blues visited. Undoubtedly, one of Slawuta's most cherished memories is bringing her mother for a tour of the White House, a visit that quickly turned emotional. She notes, "For an immigrant from a small town in Poland, nothing can compare to walking through the White House gates. My mom and I both felt an incredible sense of pride and patriotism."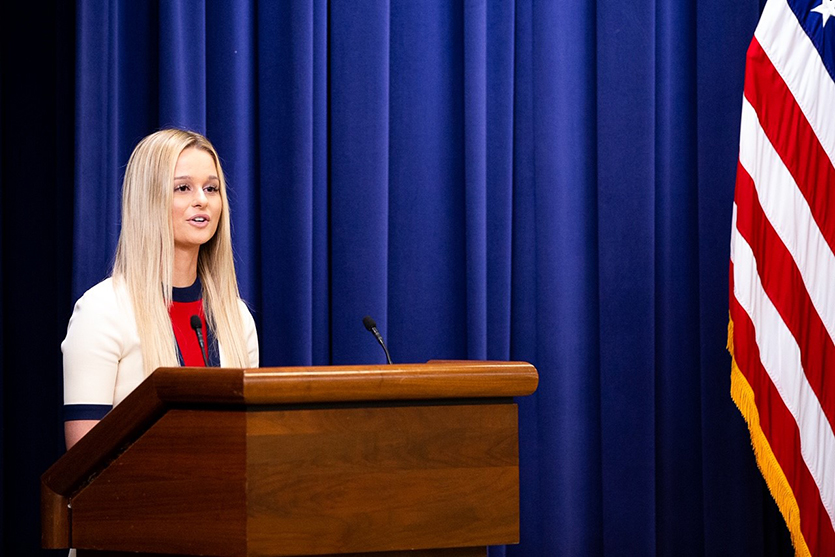 Official White House Photo by GinaLisa Tamayo. This photograph is provided by THE WHITE HOUSE as a courtesy and may be printed by the subject(s) in the photograph for personal use only. The photograph may not be manipulated in any way and may not otherwise be reproduced, disseminated or broadcast, without the written permission of the White House Photo Office. This photograph may not be used in any commercial or political materials, advertisements, emails, products, promotions that in any way suggests approval or endorsement of the President, the First Family, or the White House.
With her White House internship behind her, Slawuta is considering a return to public service after graduation, or she might just pursue a career in finance. A business administration major with concentrations in finance and entrepreneurship (she recently added the entrepreneurship concentration in hopes of owning a business one day), she plans to take an investment analysis class and complete her capping class in the fall. She notes that Marist is a great choice for students interested in finance: "As a prospective student, I was really drawn to the Investment Center in Hancock. The fact that students have access to Bloomberg terminals and manage a portion of the endowment through the Greytone Equity Fund is so impressive." Last spring and summer, Slawuta had a full-time internship at Morgan Stanley in the area of wealth management, and she greatly enjoyed it.
She gives special credit to her Marist advisor, Associate Professor of Finance Brian Haughey, for his mentorship and encouragement in all of her endeavors. Haughey notes, "Natalie's passion for things that interest her and her cheerful attitude are immediately obvious to anyone who interacts with her. She has always had a strong sense of service and is a member of the committee working to organize Marist Splash here on campus." Marist Splash is a program that brings middle and high school students to campus for a day of fun classes, all taught by Marist student volunteers. There are typically up to 200 schoolchildren who come to campus and about 100 Marist volunteers.
With two semesters to go until she graduates, Slawuta is keeping her career options open and taking classes in a variety of academic disciplines. In her view, this is the advantage of Marist's liberal arts-based approach. She says, "I've taken criminal justice, environmental science, psychology, and many other classes at Marist. If I had gone to a business school, I don't think I would have been as broadly educated." Whether Slawuta ends up back in government or pursuing a career on Wall Street, she will never forget her semester at the White House. "I gained so much confidence from my internship experience. They accept less than one percent of people who apply, so they saw something in me. I got to meet and learn from some of the best and brightest officials in our government, and I'm beyond grateful to have earned this opportunity. Whatever career I ultimately choose, my life-altering time in the White House will always stay with me."
Interestingly, Slawuta's friend and fellow finance student Spencer Hogan '20 also completed a White House internship. To read his story, go to: https://www.marist.edu/-/marist-news-our-man-in-washington.