Student Achievement
Students "On Fire" Take 1st Place in National Video Competition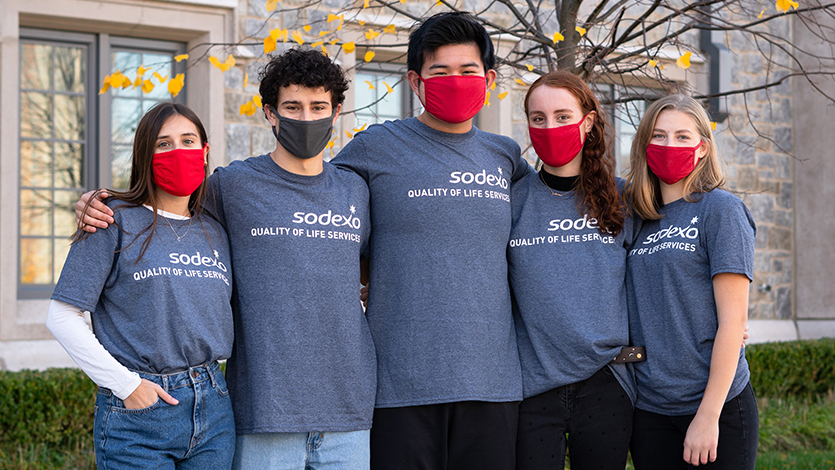 The College's Sodexo marketing interns won the National Flamin' Hot Dorito video challenge.
November 19, 2020—A group of Marist students who serve as the marketing interns for Sodexo, the College's dining Services provider, recently won first place in the National Flamin' Hot Dorito video challenge.
The student team comprised of Steven Ciravolo '21, Marleah Dentes, '21 Marie Gigliotti '21, Emma Kittay '22, and Andrew Mark '22 surpassed 80 other colleges for the top honor. Their 33-second video, "Snack Attack," features one of the interns getting "smoked out" by a bag of Doritos in front of the Marist rotunda. The group received prizes including Apple ear buds, a Microsoft editing software package, and—of course—Flamin' Hot Doritos for a year.

General Manager for Sodexo Universities Colene Doughty supervises the team and gives them high marks for their creativity and enthusiasm. "I'm pleased to see them earn national recognition for their collaborative and independent content development," she said. She noted the students work on a variety of projects, including editorial content development, social media, film/video, and graphic design. They also generate promotional material for dining events throughout the academic year. This includes developing strategies and designing flyers, managing and creating content for the @MaristEats social media accounts, writing blog posts, and shooting and editing videos, ensuring that the campus community is aware of upcoming events.

Marist stresses the importance of internships and 83% of students complete one or more during their time at the College and the Sodexo student marketing team has absolutely gained hands-on experience. "This groups' greatest strength is their ability to collaborate," said Doughty. "They work together to create a cohesive narrative and effective marketing strategy for Marist Dining."

Group photo: (L-R) Marie Gigliotti, Steven Ciravolo, Andrew Mark, Emma Kittay, Marleah Dentes.