Rankings & Recognition
US News Rankings list Marist as Among Most Innovative Schools for Fifth Straight Year
Anthony Proia, Director of Media Relations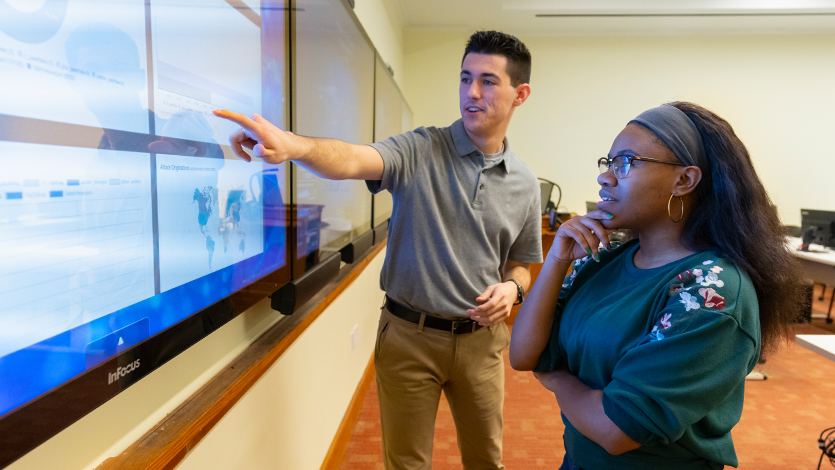 POUGHKEEPSIE, N.Y. – Marist College has once again been recognized among the nation's most innovative schools by U.S. News and World Report. The annual U.S. News Best Colleges rankings includes Marist among the top four in the Most Innovative category within the Universities North region. This is the fourth straight year that Marist has rated in the top five in this category, which identifies institutions that are making the most innovative improvements in curriculum, faculty, students, campus life, technology or facilities.
Marist also ranked high in several other categories, coming in at No 11 for Best Regional Universities North and No. 16 for Best Undergraduate Teaching. The College also ranked highly in the Best Value category. The North region includes the Northeast, New England and portions of the Mid-Atlantic.
See the full U.S. News rankings here.
"Innovation, collaboration and experimentation in a constantly changing educational landscape remains at the heart of Marist's approach to prepare students to meet the unique challenges they experience in today's world," said Thom Wermuth, Vice President for Academic Affairs at Marist. "Our College serves as fertile ground for investigation and evaluation in which students experience a challenging and innovative curricula while developing new and distinctive approaches to learning and the exchange of ideas."
"What has been able to set Marist apart from other schools, is the large number of faculty and staff that are willing to help you succeed and create an innovative and real world student experience," said Gabriel Borbon '23, Marist Student Body President. "Marist has always stood out due to its opportunities for students, such as internships, study abroad and research."
Marist was recently selected for inclusion in The Princeton Review's guide for The Best 388 Colleges for 2023. Results in that survey showed Marist ranking among the best in the nation in student satisfaction, happiness and residential life. In the survey, student responses ranked Marist among the top 10 in the nation for its dorms and top 25 in happiness and love of college.
Marist educates approximately 5,000 traditional-age undergraduate students and 1,200 adult and graduate students in over 90 undergraduate majors, minors, certificates and graduate programs, including the Physician Assistant program, other fully online MBA, MPA, MS, and MA degrees, and the Doctor of Physical Therapy program.
Marist's Study Abroad program is one of many experiential learning opportunities that add value to the experience for its students. More than half of Marist students spend time abroad before graduation. The program is ranked second in the nation among master's-granting institutions for semester and academic-year abroad as well as total number of students studying abroad in the most recent Open Doors Report on International Educational Exchange. Marist has received the Senator Paul Simon Award for First Year Abroad programs in Italy and Ireland and also features an annual roster of innovative, faculty-led international and domestic travel programs.
Marist has created numerous Centers of Excellence that provide unique opportunities and combine in-classroom learning with real-world professional experiences. These centers include The Hudson River Valley Institute, The Marist Poll, the Marist/IBM Joint Study, the Center for Civic Engagement and Leadership, and the Center for Sports Communication, among others.