Academics
The Women's Suffrage Movement in New York State Is the Focus of the 2020 Handel-Krom Lecture in Hudson Valley History

"Votes for Women: Celebrating New York's Suffrage Centennial 2017 & 2020" will be held online on October 15.
October 1, 2020—New York State Museum curators and historians Jennifer Lemak and Ashley Hopkins-Benton will deliver the ninth annual Handel-Krom Lecture in Hudson River Valley history. This online-only event, which is presented by Marist College's Hudson River Valley Institute (HRVI), is free and open to the public and will take place on Thursday, October 15, 7:00pm. Pre-registration is required.
Lemak is the Chief Curator of History and Hopkins-Benton is the Senior Historian/Curator of Social History. Together they curated the New York State Museum exhibition and companion catalog, "'Votes for Women' Celebrating New York's Suffrage Centennial," which was on view through May 2018. That work will serve as the basis for their Handel-Krom talk. An online version of the exhibition may be viewed here.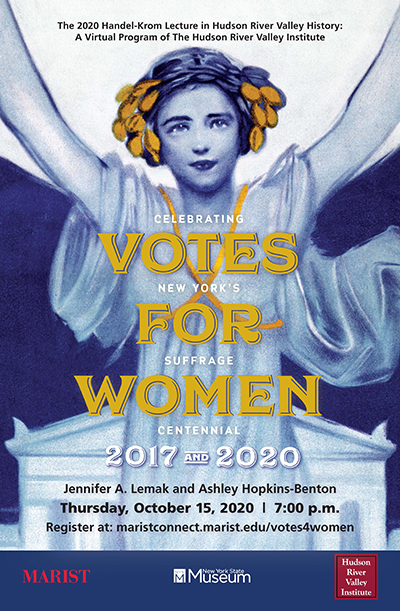 "We felt it was important to examine the fight for women's suffrage across New York State and how the women of New York paved the way for the passage of the 19th Amendment," said HRVI Executive Director James Johnson. "Jennifer Lemak and Ashley Hopkins-Benton curated a diverse array of artifacts including uniforms, banners, petitions, posters, photographs, and more for the exhibition and accompanying catalog; we are honored to have them speak this year."
The online presentation will include visuals from the exhibition, including an 1864 Sojourner Truth carte de visite, from the Elizabeth Cady Stanton Trust, as well as an assortment of posters, banners, and photos of prominent suffragists. Pre-register for the event by visiting: maristconnect.marist.edu/votes4women.
About the Handel-Krom Lecture Series in Hudson River Valley History This annual lecture series was established through the generosity of community leaders Shirley and Bernard Handel and Lieutenant Colonel Gilbert A. Krom, US Army, Retired, to promote knowledge of, and appreciation for, the rich history of this unique and important region of America.
About the Hudson River Valley Institute
The Hudson River Valley Institute (HRVI) is a Center of Excellence at Marist College that studies and promotes the history of the Hudson River Valley. The Institute provides information about the region's culture, economy, environment, and educational resources through www.hudsonrivervalley.org, public programming, and The Hudson River Valley Review. This biannual peer-reviewed journal covers all aspects of regional history. The Hudson River Valley Institute is supported by a major grant from the National Endowment Humanities. Visit HRVI on Facebook at https://www.facebook.com/hudsonrivervalleyinstitute.