red M background
Regardless of whether you're interested in the Music Minor or just want to incorporate music into your time at Marist, we've got something for you. The Music Program at Marist cultivates music literacy, musicianship, individual creativity, and engaged citizenship through learning experiences, performances, and a commitment to providing music on both the local and international levels.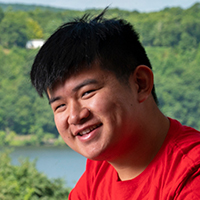 A World-Class Music Experience
Any Marist student can participate in several performing ensembles and take a variety of courses offered in music theory, music history, and applied voice and instrumental studies. The program also brings in major names to teach and guest conduct with our program. As a Marist student you can partake in the:
Music Minor: open to all majors and very compatible with any educational path at Marist
Vocal Ensembles: including Marist Singers, Chamber Choir, Chapel Choir, Gospel Choir, and any of the student-run A Cappella groups
Wind and Percussion Ensembles: including Marist Band, Wind Symphony, Brass Ensemble, Flute Choir, The Jazz Foxes, Handbell Choir, Percussion Ensemble, and Woodwind Ensemble
String Ensembles: including Marist Orchestra, Chamber String Ensemble, and Guitar Ensemble
View the Music Minor Curriculum >
Learn More About Ensembles >
Travel the World with Marist Music
The Marist Singers, led by Williams, gave a series of public concerts at prestigious venues in Vienna, Eisenstadt, Mondsee, and Hallstatt before heading to Mozart's hometown of Salzburg to participate in World Choral Fest (WCF), whose aim is "bringing the world together in song." The festival culminated in a dramatic performance of both classic and new choral works inside the elegant Salzburg Cathedral, where the public treated them to a standing ovation.
Earn a Music Scholarship with Your Talent
At Marist, we believe in the power of music, so much so that the Music Department has specific scholarship awards for eligible Music students. Based on talent and technical merit, students applying for the Fusco Music Scholarship are eligible to receive a $2,500 award renewable each year.
Students walking in front of the rotunda
The Value of a Marist Education
At Marist, we pride ourselves on our dedication to providing our students with a well-rounded liberal arts education that prepares them for practical experience and profound success in their field. But don't just take our word for it - the numbers speak for themselves.
Of current students are satisfied with their Marist Experience
Graduation rate, higher than the average for public and private colleges
Employed or attending grad school 6 months after graduation
Top 50 "Colleges That Create Futures"
Top Regional Universities-North
"Best Colleges"
Get More Info
Request for More Information