Students listening to the lecture.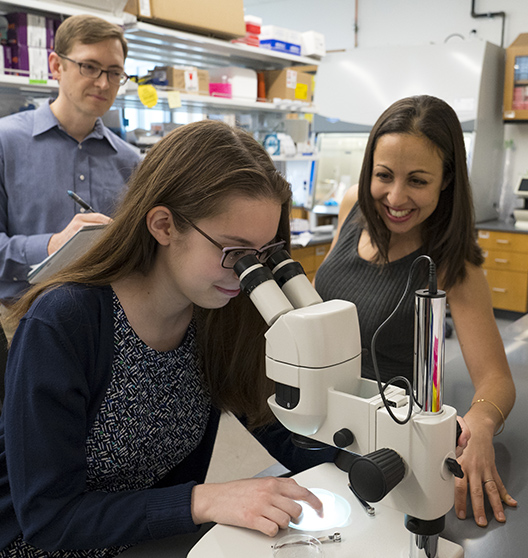 "The students are what I love the most about Marist. They are involved in every aspect of my research, especially the hands-on lab work that is at the heart of what we do. I enjoy the process of training and mentoring students in the lab with the ultimate goal of making new discoveries that we can present and publish." - Dr. Jocelyn Nadeau, Associate Professor of Chemistry
School of Science
The School of Science prepares students for successful careers in the natural and physical sciences and health professions. Students in the school benefit from top facilities, as well as opportunities for study abroad, internships, clinical rotations, and hands-on research, along with small class sizes. After graduation, our alumni are prepared to make their mark in the sciences and health professions.
Tile M grey background
Marist Awarded Prestigious NSF Grant to Provide Full Tuition Scholarship
The Marist School of Science has been awarded a $1,480,254.00 grant from the National Science Foundation to support high achieving students in STEM majors. The Gateway to Success program will increase STEM degree completion among high-achieving undergraduates with significant financial need and plan to enroll in 2022 and 2023.
Message from the Dean
At Marist's School of Science, we're proud to prepare students for successful careers in the natural, physical, and health sciences. Students in the School benefit from both world-class laboratories and facilities and small class sizes. The School's outstanding faculty places a strong emphasis on getting to know students as individuals and collaborating with them on scientific research, whether it's on campus, around the country, or even abroad.
Sincerely,
Dr. Alicia Slater, Dean