SNR 36 Banner
Judges
Silver Needle Runway 36
Every year, the week before our big show, we have a panel of judges made up of industry professionals who critique our senior designers' collections called Senior Thesis Presentation. Not only does this prepare our students to enter the fashion industry, but one of our senior design students will be chosen and receive an award for Senior Designer of the Year.
Meet the SNR 36 Judges
Marrisa Wilson

Marrisa Wilson is a first generation Guyanese-American designer raised in New Jersey. She also is a Marist Fashion Design Alumni who has a great amount of experience under her belt. She has worked for companies such as Maggy London, J. Mendel, Oscar de la Renta, Rag & Bone, Calvin Klein, & DKNY. Currently, Wilson is working as a Concept and Trend Director at CreateMe, while consecutively running her own brand, Marrisa Wilson NY. Founded in 2016, her brand is a womenswear apparel brand that incorporates cool, relaxed styling mixed with textiles and vibrant print artwork and all developed in-house. Her designs are heavily influenced by the aesthetics of soulful sounds and eclectic interior spaces, catering to the natural beauty of multicultural women everywhere. Her brand is based on two main values-- Self Love and Women Supporting Women, so MWNY's customers can freely express their individuality through wardrobing. She is creating a community of strong, inspiring, and united women to celebrate and promote diversity in the fashion industry.

Jeff Mahshie

After graduating from Parsons in 1987, Mahshie began his career designing sportswear for Carmelo Pomodoro. Mahshie has also served as a designer for Giorgio di Sant Angelo, Elie Tahari, and ABS by Allen Schwartz. Mahshie then went on to become the creative director at Chaiken for eight years, where he introduced swimwear, maternity, outerwear, and evening to the collections. After Chaiken, Mahshie continued his career as a creative director at Halston for two years, while simultaneously working as a costume designer for stage productions in NYC. Mahshie has won multiple awards for his costume designs, such as the Drama Desk Award for Outstanding Costume Design for a Musical and Outer Critics Circle Award for Outstanding Costume Design. After being the creative director at Halston, Mahshie left to become a creative consultant at Tommy Hilfiger for two years before returning to his previous position as creative director, but for Lord & Taylor. Presently, Mahshie is working as the senior VP creative director at Anne Klein and has been for nine years. Along with his countless design accomplishments, Mahshie is an esteemed fashion industry professional and has been a member of the CFDA since 2003.
Nick Wooster

Nick Wooster graduated from the University of Kansas, gathered all his belongings, and moved to New York City to begin his amazing career in fashion. Many know him for his fashion consultations and phenomenal street style; he was even on Vanity Fair's International Best Dressed List in 2015. However, he has done so much more in the fashion industry. Nick's career in fashion has spanned over 30 years with various positions at Barney's New York, Bergdorf Goodman, Neiman Marcus, Calvin Klein, Ralph Lauren, and JCPenney. He started his career as a buyer, transitioning to design and eventually, back to retail as Men's Fashion Director. He is currently the Style Editor at At Large Magazine and Creative Director of the luxury Italian sportswear brand, Paul & Shark.
Stuart Harris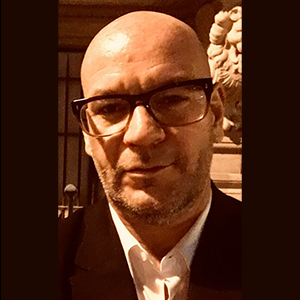 Stuart Harris began his fashion career when he attended Kingston University in London for Fashion & Apparel Design. Since graduating, he has spent 32 years growing himself as a fashion industry leader. Within 6 years out of college, he became Vice President of Design at Jones Apparel. He was the Vice-President of Jones Apparel for 18 years. In 2015, he went to work for G-III as Vice President of Design. G-III is a major apparel group with brands like DKNY Jeans and Karl Lagerfeld Paris. This allowed Harris to work as creative director for women's apparel at Karl Lagerfeld Paris, while also working as Vice President of Design at G-III. In 2020, he took on yet another role as Vice President of Design at DKNY Jeans.
Byron Lars

Growing up in El Cerrito, California, Byron Lars took drafting classes for aspiring architects. But after making his own baggy pants, he realized he would rather be drafting designs for apparel instead. For college, he moved to New York and went to the Fashion Institute of Technology. He flourished at FIT and went on to win design prizes in Paris, Milan, and twice in Monte Carlo. He began designing under his own label in 1991, Byron Lars Beauty Mark. As part of that season's success, Women's Wear Daily named him "Rookie of the Year." Style "mash-ups" are an integral part of Byron's designs; he sees them as fashion icebreakers. Retailers that carried his work include Bergdorf, Saks Fifth Avenue, Bloomingdales, Henri Bendel, Neiman-Marcus, and Anthropologie. In 2012, Lars designed dresses for Olympic gold medalists Sanya Richards-Ross, Carmelita Jeter, and Allyson Felix. Michelle Obama wore a dress from Lars's Beauty Mark line to the 2011 September 11 commemoration and in a portrait of the First Family. In the midst of the pandemic, Lars decided to start a new brand, IN EARNEST, which has been successful in the states and abroad.
Catherine Carnevale

Catherine first received a foundational degree at Central Saint Martins for design and applied arts, she then moved on to receive her bachelor of arts degree in fashion textiles with a knitwear specialty from the University of Brighton, where she graduated in 2002. To begin her career, Catherine worked at Magaschoni as an assistant women's sweater designer for five months, afterwards she landed a position working as an assistant in women's sweaters and knits at Anne Klein. Moving forward, Carnevale worked at Calvin Klein as an associate designer for women's sweaters and knits, then at Club Monaco, she was a designer for women's sweaters and knits. In 2010 she went back to Club Monaco as a senior director for women's sweaters, knits, and cold-weather accessories. She is now the Co-Founder and Creative Director of the high-end knitwear collection and consultancy business, Eleven Six. Her inspiration for Eleven Six stemmed from a trip to Peru and Bolivia where she deeply admired the local artisans.
Keren Craig

Keren Craig is a Creative Consultant, who began her career as a student at The University of the Arts London. She graduated with a Foundation Degree in Fashion and Textiles, in 1995. Craig continued her education in Fashion and Textiles at The University of Brighton, graduating with a Bachelor of the Arts Degree, in 2000. In the years following, Keren Craig completed some freelance work at brands such as Calvin Klein and Dolce & Gabbana. Later, she partnered with a longtime friend, Georgina Chapman, to create Marchesa, a brand that specializes in high end womenswear. The pair launched their label in 2004. In 2006, Marchesa was named one of the CFDA/Vogue Fashion Fund's top ten finalists Craig worked as a Co-founder and Co-creative Director until her departure from Marchesa in 2019. She now continues her work in the industry as a Creative Consultant at Keren Craig.
Gary Graham

Current American artist and fashion designer Gary Graham studied painting for a year at Maryland Institute College of Art, before transferring to the School of the Art Institute of Chicago to study fashion design and performance art. In the beginning of his career, he worked in costume production and for Julie Taymor as a costume designer, where he worked on award-winning projects like the Lion King. In 2009, Gary established his flagship store in the New York Tribeca Area, which gained a loyal and pristine cult-like following. In this same year, Gary was awarded as a CFDA/Vogue finalist. His clothing line, including the capsule collection Anagram, was sold at select luxury retailers worldwide. In 2018 he relocated both his studio and store to Franklin, NY, where he relaunched his line as GaryGraham422. GaryGraham422 is "a site-specific creative endeavor dedicated to creating small-batch collections of hand-finished garments using antique textiles and custom jacquards."
Kenneth Nolan

Kenneth Nolan is an industry veteran who has designed for many of America's top brands. Alongside his own label, Kenneth designed for such companies as Flora Kung, Maggy London, Liz Claiborne, and Anne Klein. He joined Glll fifteen years ago to launch Calvin Klein Dress and is now Creative Director over Calvin Klein dresses, suits, and sportswear.