Frequently Asked Questions
Preparing to live on a college campus is a very exciting process, but can also be overwhelming. The Office of Housing and Residential life is here to make the process easy every step of the way. See below for answers to frequently asked questions, or learn more about what to bring to move on campus >>
When will I find out where I'll live?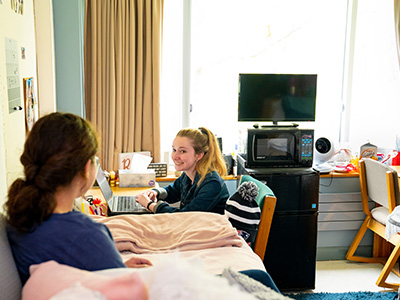 Housing assignments will be available online in early August on the Housing & Residential Life section of MyMarist. You will then be able to access information regarding your housing assignment including the building, room number, and the name and contact information of your roommate(s). Should you have problems logging into your MyMarist account, contact the Marist College Help Desk at 845-575-4357.
How do I apply for a special interest floor?
Applications for P-STEM Floor Housing, Honors Program Housing, Multicultural Community, Women's Athletic Connection and Gender Inclusive Housing are available online through the Orientation Portal. Applications must be submitted by the deadline posted on the Orientation Portal. You will be notified of your application status via your Marist email account at the end of July.
Can I request to live with my friend?
Your first year will be both challenging and exciting. Traditionally, Marist holds the ideal that the experience of living with someone whom you have not known before is both invaluable and beneficial to one's growth. With growing concerns of the current environment, if you have a specific person you would like to live with, please complete the Roommate Request Form by the date posted in the Orientation Portal.
Will I be able to switch roommates if we don't get along?
Every effort is made to work with roommates to ensure they are able to peacefully co-exist in the same living environment. Resident Assistants, First Year Coordinators, and Resident Directors are all available to assist roommates who may have conflicts. All first-year residents are required to complete a roommate agreement to clearly establish expectations while sharing the space. Taking into account the transition period for all first year students, roommate changes are strongly discouraged in the first semester.
What should I bring?
We encourage you to bring pictures, posters, etc. - anything that will make your room comfortable and an expression of who you are. You will live in this room for approximately nine months, so be sure to bring things that will make you feel at home. View a comprehensive list of suggestions about what to bring.
What size sheets should I bring?
Twin extra-long sheets are the appropriate size for the beds in our residence halls. The mattresses measure approximately 36"X 80" and are also known as "College Standard." Beds are adjustable up to a height of 36 inches. You can purchase linens directly from Marist.
What size carpet should I get for my room?
We recommend a 6' x 9' carpet for all five of the first-year residence halls. You can purchase carpets directly from Marist. Proceeds from these sales go to resident student leadership programs.
What about microwaves and refrigerators?
First year students will have access to microwaves in the common areas of the residence halls, and are allowed to have one microwave (700 watts maximum) per room. Each room may also have one refrigerator (3.6 cubic ft maximum). You will also have ample time to order a microwave and/or refrigerator before you move on campus in August. After you receive your room assignment, we recommend that you contact your roommate(s) and coordinate who is bringing shared items to your room. Refrigerators and microwaves can be rented through a college-sponsored vendor. They will be delivered to your room prior to Freshmen move-in day.
Which items should I leave at home?
The possession and use of candles, contact wall paper, halogen lamps, hot plates, broiler ovens, fry pans, popcorn makers, space/portable heaters, bed risers, coffee makers (Single brewer coffee makers (Keurigs) are permitted), immersion heaters, toasters, air conditioners, oversized speakers, wireless routers, and similar portable equipment is prohibited. Due to fire safety regulations, extension cords are also prohibited, although students are allowed one UL listed surge protector that features a reset button. If you have questions regarding a specific item not mentioned please contact the Office of Housing and Residential Life.
Is there TV and/or Internet in the rooms?
Marist College is pleased to offer the IPTV service to all of our on-campus residents. IPTV is an internet protocol TV platform that delivers live TV, network DVR services and access to TV everywhere such as HBO Max, to students over the campus network. IPTV lets students watch live television the way they want on laptops and other devices anywhere on campus. Wireless internet is available in each room and common area of all buildings.
Can I smoke in my room?
Smoking, including electronic smoking devices, is not allowed in any of Marist's residence halls. It is Marist College policy that smoking is prohibited within 25 feet of any College building.
What kind of support services are offered in the residence halls?
Each area is staffed with a Resident Assistant (an upper-class student staff member) assigned to each floor who builds community by implementing programs, enforcing college policy, and acting as a peer mentor to residents. A Resident Assistant is on duty each evening from 7:00 pm to 8:00 am, in order to assist with any problems, concerns or questions that a resident student may have. In addition, the first year areas also have at least one live-in professional staff member in the building, the Resident Director who is responsible for the overall operation of the area. First Year Coordinators, who assist residents with academics and adjustment, also live in the residence halls.
What is the food like on campus?
Marist Dining Services offer a wide variety of food options in the Dining Hall and can accommodate students with special dietary needs. There are a number of cafes and coffee shops on campus where students can use their Thrifty Cash or Marist Money.
What if I need a medical housing accommodation?
Students that need a housing accommodation for a medical need must submit the Housing Accommodation Form. Please submit your completed Housing Accommodation Form as soon as possible to the Office of Accommodations and Accessibility. Housing Accomodation Forms are available on your myMarist page by clicking on Housing & Residential Life in the Student Tab.
General Campus Housing
How many students live in each room?
Rooms house between 2 to 4 students depending on the room and the residence area.
What are the rooms equipped with and what do I need to bring with me?
Each room has a bed, dresser, desk, desk chair, and closet for each student that the room was designed to house.
The following items are not allowed in the residence halls:
double-sided sticky tape (commonly used to attach dry erase boards to doors)
halogen lights
hot pots
hot plates
boiler ovens
fry pans
space/portable heaters
air conditioners
coffee makers
toaster ovens/toasters
warmers
In addition, first year students are not permitted to have shot glasses and/or other alcohol/drug paraphernalia. Due to fire safety regulations, extension cords are prohibited and each student is allowed one surge protector only for the use of their computer. Learn more about what to bring when living on campus >>
What kind of security do the buildings have?
The residence halls are secure twenty-four hours a day. All students are required to swipe their ID card to prove that they have approved access to each Freshmen building. Security is committed to regular patrolling of the Residence Halls in the evening and early morning hours. In an emergency, Marist Security can always be reached at (845) 575-5555.
Is there any housing for families or married students?
No, currently we do not have any housing available for married couples.
How can I become a Resident Assistant?
Applications packets for the Resident Assistant position are available at the beginning of each semester via MyMarist, or in the Office of Housing and Residential Life.
When and how do I pay for housing?
Returning Students: Returning students will pay an advance room deposit in February.
Freshmen/Transfer Students: Freshmen/transfer students payment for housing is included in your statement sent to your home address from Student Financial Services. Freshmen/transfer students fill out forms for where they wish to reside on campus during their orientation session.
When can I move in to the residence halls?
The Academic Calendar contains information pertaining to move in and move out dates, first and last days of classes and other important deadlines.
What opportunities for involvement and leadership are available in the residence halls?
There is a Residence Hall Council (RHC) in every residence area consisting solely of Marist Students living in your residence area. Positions of leadership are attained through student elections. Meeting times are generally posted in your residence area and the laundry facilities for the upperclassmen.
Where can I find more information about various services such as mail delivery, laundry facilities, parking permits, TV connections, telephones service, and maintenance?
The Marist College Post Office within My.Marist can answer any questions pertaining to mail delivery and student mailboxes.
The Office of Safety and Security is in charge of issuing parking permits.
The Office of Student Activities & Organizations is in charge of campus wide events and other activities pertaining to Marist Students.
The Physical Plant office is in charge of Grounds, Maintenance and Housekeeping.
Student Financial Aid Services
I need financial aid to help pay for my residence hall fees. How do I apply?
Student Financial Services can provide information on assistance in paying your bill.
Information About Dining Services
Are all residents required to have a dining plan?
Dining plans are required for all freshmen and sophomores residing in Champagnat Hall, Sheahan Hall, Leo Hall, Midrise Hall, Marian Hall, Foy Townhouses, Upper and Lower New Townhouses, Upper and Lower West Cedar Townhouses, and Fulton Townhouses. Juniors and Seniors residing in a townhouse/apartment have full kitchens, therefore dining plans are optional. Learn More About Marist Dining.
Will I be refunded for meals that I do not use?
No.
Off-Campus Housing
If you desire to withdraw from campus housing, the Office of Housing and Residential Life provides information on available rental properties.
Other Questions?
We'd love to hear from you! We understand that as a first year student you will have many questions. If you are wondering about something that is not on this sheet, please do not hesitate to call us at the Office of Housing and Residential Life at (845) 575-3307 or send us an e-mail at Housing@Marist.edu.