Academics
Marist Students Make Impact at NY State Capitol
Anthony Proia, Director of Media Relations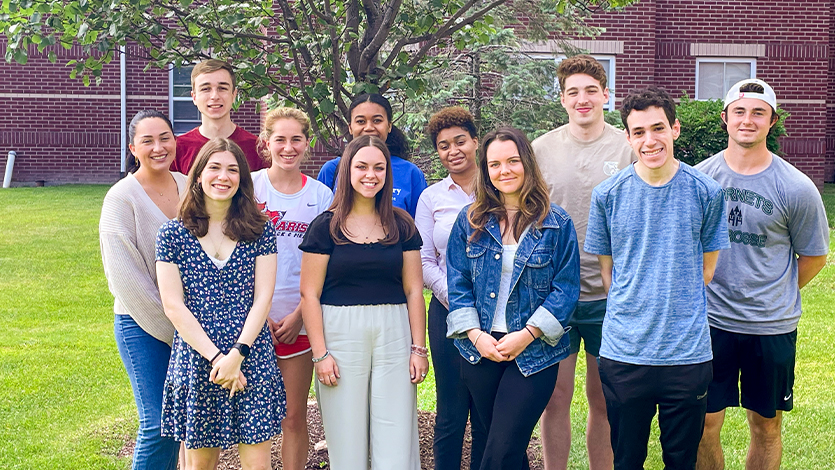 November 17, 2022 – At the end of an academic year, it's common for students to immediately head home for the summer. However, for many Marist College students, the learning continues. Marist's Albany Summer Internship Program (ASIP) puts students in the center of state government and gives them invaluable hands-on experience in a variety of fields.
Students who have participated in ASIP have gone on to careers in journalism, government relations, and political advocacy. Internship placements through ASIP for Marist students include policy advocacy and political communications positions in a variety of policy areas, as well as in lobbying firms.
ASIP gives students from all majors a true insider's perspective on political communications, politics, and public policy in New York's state capitol during the six-week program.
"This experience has jumpstarted the careers of many Marist students from various majors. The students not only intern in the State Legislature and lobbying firms, but also in advocacy organizations working on important issues such as mental health, environmental concerns, and youth development," said Dr. Martin Shaffer, Dean of the School of Liberal Arts. "Over 80% of Marist students do an internship and the ASIP experience provides a great opportunity for our students to pursue their interests, develop their skills, and begin building a professional network!"
Students typically participate in the program after their sophomore or junior years and all students meet regularly with ASIP Director Dr. Krista Applebee, for internship guidance, career advice, and networking events. In addition, the ASIP interns live together as a cohort in an Albany townhouse complex which provides a built-in community for the students.
"Marist's Albany Summer Internship Program provides the opportunity to explore future careers and strengthen student's professional competencies through a customized internship experience," said Dr. Applebee. "An internship in public service is a meaningful addition to academic study in any discipline. We are fortunate to have longstanding internship partners who have been generous mentors to our students. As an important part of the program, we take time to reflect on each student's experience and consider how this internship might help clarify their future career plans or graduate study."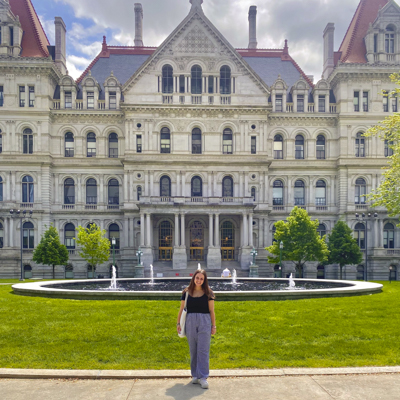 Emily Stellakis '24 (photo: standing in front of the New York State Capitol), a native of Wyckoff, New Jersey, is a political science major at Marist, with a minor in communication with a journalism focus. She interned in the State Senate Office of Sen. Cordell Cleare over the summer. Under the direction of the Senator's Legislative Director, she was involved in policy briefings and drafted proclamations and wrote newsletters. Her goal is pursuing a career in political communication.
"I gained incredible insight into the inner workings of state government while staffing the Senator in the Senate Chamber during the legislative session," said Stellakis '24. "It was remarkable to witness the passage of several landmark bills from the floor of the chamber—easily the most beautiful, elaborate room I've ever been in—and to hear New York's dedicated lawmakers speak on important policies."
Alex DiVincentis '24 is a political science major from Durham, Connecticut. Over the summer, he interned with the Vandervort Group, a contract lobbying firm in Albany, where he participated in meetings with clients. He also tracked bills, and did some in person lobbying at the Capitol.
"The experience was super valuable because I really had very little practical experience or knowledge of what the lobbying world looked like or how it operated," said DiVincentis '24. "This was essentially dipping my toes into the water of the lobbying world to see what it is all about. It also allowed me to obtain a better grasp of the legislative side of things."
Erin Petrosino '23, a senior and psychology major from Connecticut, with a minor in philosophy, cognitive studies, and global studies, joined the ASIP program after her junior year. Petrosino '23 chose to intern at Mental Health Association for New York (MHANYS) to satisfy her curiosity about public policy, as well as gain real world experience
"Interning at MHANYS for six weeks exposed me to the many opportunities available inside and outside of the mental health field," said Petrosino '23. As an intern, I collaborated with several directors on various projects, ultimately walking away with a few of my own working ideas. Ultimately, participating in ASIP, and interning at MHANYS, taught me important factors about myself I would not have learned in the classroom."
ASIP is open to all Marist students, and students from many majors have participated in the program in the past several years. The application process involves an essay and academic transcripts. Although winter is around the corner, planning for a great summer internship with ASIP starts today!