Academics
Building the Foundation: Two Success Stories from Marist Summer Pre-College
Paisley Haddad and Julia Fishman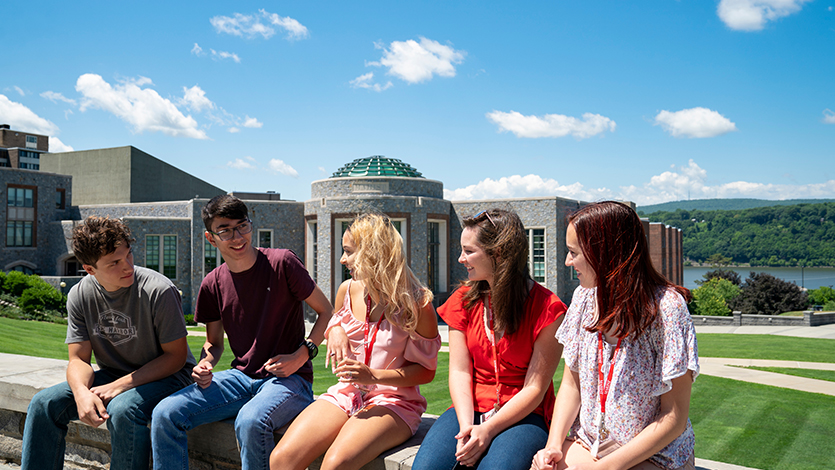 March 27, 2019—Marist Summer Pre-College is a foundation program for students to try out college life and courses while still in high school. With sessions available on the Poughkeepsie campus and offerings now available at the College's New York City Executive Center, students have a range of options and experiences to choose from. Pre-College programs of study include everything from Criminal Justice and Pre-Law to Game Design and Creative Writing.
Two students who took advantage of the program and currently attend Marist are Caytie Judy '21 and Willow Waltemire '22.
Judy, who hails from San Francisco, California, participated in the Fashion Merchandising Pre-College program. Now she's a business administration major with a concentration in marketing, and minors in communication and global studies.
"I learned about Marist Pre-College from a simple Google search," said Judy, "I knew I wanted to check out schools in New York, and Marist had such great reviews online that it made me want to do the program."
"While in the program, I was on the Fashion Merchandising track, which really gave me a sense of the industry," said Judy. Students who are in the Fashion Merchandising track are given a glimpse into the curriculum of the Fashion Program at Marist. Classes in that track include "History of Costumes" and "Textiles." Faculty from the Fashion Program also teach these Summer Pre-College courses, giving students an opportunity to get a real sense of what being in a class at Marist is like.
"After having studied in the Fashion Merchandising track for my session, I ultimately decided that I was more interested in the business side of fashion, and that is how my major came to be," said Judy. That's a key advantage of Pre-College: students have an opportunity to consider and refine their major choices before they start college.
Looking back on the program Judy noted that "being from California, it was really exciting to get to be on the East Coast. We also took two trips to New York City, which was a highlight of the program, as well as a Fourth of July fireworks spectacular that was put on just for us. The program really sold me on Marist."
Her advice for students considering Pre-College? "Try to meet as many people as you can, try new things, and do not limit your college experience to one goal: set as many as possible."


Willow Waltemire '22

Waltemire participated in the Theatre Pre-College program. It was a perfect fit. "My mother was an actress and is currently a stage manager, so I have literally grown up in the theatre. I started ballet when I was three, so that is where the majority of my stage experience comes from," said Waltemire. "Although I did participate in musicals at my high school, the Pre-College Theatre program was perfect because I knew at some level I would be involved in the theatre program at Marist."
A native of South Carolina, Waltemire said attending Pre-College also gave her a chance to experience the Marist campus. She's currently in the Freshman Dublin Experience so "without Pre-College, I would not have experienced the Marist campus until sophomore year."
Waltemire would recommend Pre-College to any high school students looking for a campus experience. "This kind of program allows you to get to know the campus, gives you a taste of college and what it is like to be on your own, but has the safety of a semi-controlled environment," she explained. "In my case, Pre-College helped me to fall in love with Marist."