Institution
Somaliland Conference Promotes Development Solutions
June 20, 2019—Last December, Marist held a thesis exhibit to showcase the broad array of research done by seniors in the Honors Program. One of those students, psychology major Qadan Mohamed '19, presented a senior thesis entitled "Female Genital Mutilation: Why Does It Continue to be a Cultural Force?" At the time, Mohamed discussed her belief that lack of education is a big factor in the persistence of female genital mutilation, or FGM: "People aren't making the connection between this practice and the severe health effects it can cause, including infection and post-traumatic stress disorder, as well as the negative economic impacts. There's a belief that this tradition is part of who we are." Thus was born the idea of hosting a conference focused not only on FGM, but on the many other issues affecting Somaliland.
Mohamed is a native of Somaliland, which declared independence from Somalia in 1991 after a civil war, and a graduate of the famed Abaarso School of Science & Technology, founded by Jonathan Starr. Starr's book about the school's success, It Takes a School: The Extraordinary Story of an American School in the World's #1 Failed State, was required reading for all Marist freshmen in 2018-19, and he visited campus last fall to deliver a guest lecture. The connections forged between Starr, Honors Director James Snyder, and others the College led to the recent "Leadership in Somali Education and Development" conference, held on campus from June 8-9. As Starr put it, "Abaarso's partnership with Marist allowed our annual reunion to bloom into a full-blown Somali development conference with over 100 participants, including experts from around the world."



(L to R) Emma Stark, Spencer Hogan, Edna Adan, Qadan Mohamed

Inspired by Mohamed's outstanding research and desire to make a difference in her home country, Snyder and Assistant Professor of Political Science Elizabeth Kaknes (Mohamed's thesis advisor) worked with her, Natalie Ford '21, Spencer Hogan '20, and Emma Stark '20 to organize this unique forum. Their goals were to explore important topics related to Africa, build leadership and development opportunities for Marist students, and reunite graduates of the Abaarso School living in the United States. The topics explored included public health, building a strong banking system, developing business opportunities, and leveraging the resources of the Somali diaspora.
"Leadership in Somali Education and Development" attracted attendees from schools such as Harvard University, Columbia University, and Macalester College, and organizations including the International Finance Corporation, American Enterprise Institute, and Morgan Stanley. Among the honored guests were activist Edna Adan, founder of the Edna Adan Maternity Hospital in Somaliland, and Bashir Goth, Somaliland Ambassador to the United States. Adan's work providing high-quality healthcare, training nurses and midwives, and treating obstetric fistulas has won her countless admirers, including Nicholas Kristof of The New York Times, who has written extensively about her. Adan is the former foreign minister of Somaliland and the country's first qualified nurse-midwife. While at Marist, she delivered a speech on "Lessons Learned from 45 Years of Fighting FGM" and moderated a workshop on improving public health in Somaliland. For his part, Goth moderated a panel entitled "How to Contribute Back Home When You Live Abroad?" Other notable attendees were Michael Rubin, Resident Scholar at the American Enterprise Institute, and Anne Dix, Director of Hospitals and Schools for USAID.


(L) Michael Rubin, (R) Ahmed Samatar

Reaction to the conference was overwhelmingly positive, and participants reported feeling energized and with a renewed sense of possibility. In the words of Trudy Hall, retired headmaster of the Emma Willard School in Troy, New York and incoming headmaster of Abaarso, "What college doesn't dream of hosting an intimate international conversation designed to problem-solve the challenges of an impoverished region of the world? The professional speakers not only taught us about Somaliland, but shared wisdom and life lessons that will serve the students who attended, preparing them for lives of global engagement with challenging issues." Adan considered the experience "among the best days of my life," having met so many young people from her country determined to return home and create change as she did. According to Asha Farah, a Starbucks executive and founder of the Burao Academy in Somaliland, "Qadan Mohamed has inspired and ignited a movement of volunteers, young Somali-American professionals who are ready to take on FGM and other causes."
For Stark, an educational psychology major at Marist, the conference built on the work she did for her senior thesis. "For my thesis, I researched Somaliland and its education system and created educational videos that were translated into Somali with the help of Qadan. As a result of attending this conference, I was asked to share the videos I created, and through the connections I made, my videos will be seen by a wider range of people and will be a resource for students in Somaliland. I was also able to engage in such rich conversations, which helped me understand what education looks like for students in the Horn of Africa. Education is a passion of mine, and it was amazing to hear the struggles others face and how they overcame them." Hogan, a double major in business administration and economics, agreed that the conference had a powerful effect: "For students with an interest in political economy, economic development, or education, a conference of this nature is inspirational and impactful. I genuinely felt like I was on the frontlines of change for Somaliland."
Reflecting on the success and meaning of the conference, Snyder said, "This conference is the definition of a high-impact practice in higher education. The whole thing started with Qadan and Dr. Kaknes working on a thesis project together. The conference brought together scholars, practitioners, and students to work on highly complex problems that concern the wellbeing of humanity. I am proud of how our Marist students – Qadan, Emma, Spencer, and Natalie – used this as an opportunity to conduct high-level undergraduate research projects. I am especially proud that their hard work and critical insight will also positively impact the future of Somaliland."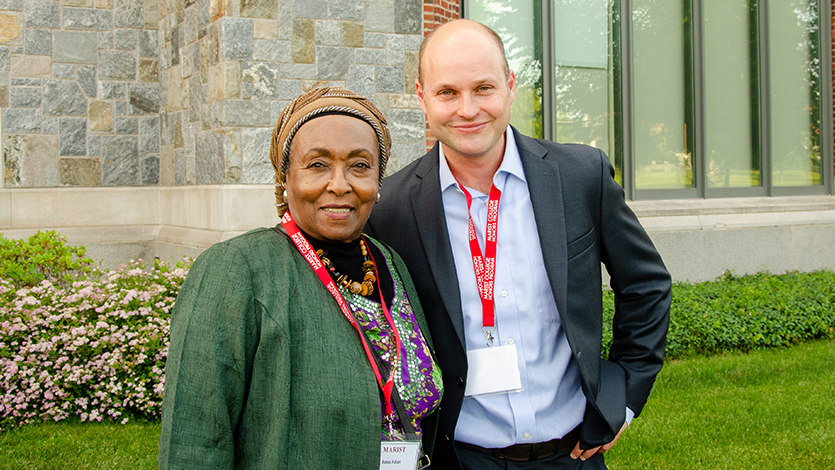 (L to R) Edna Adan, Jonathan Starr