Marist Abroad Awarded NAFSA Senator Paul Simon Spotlight Award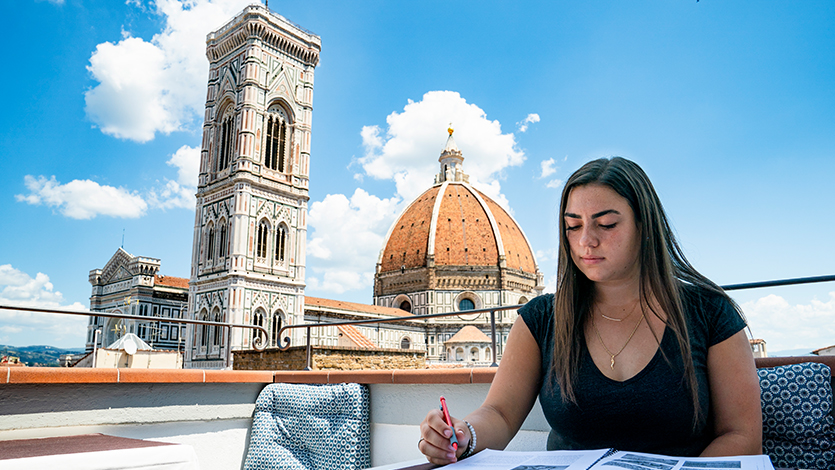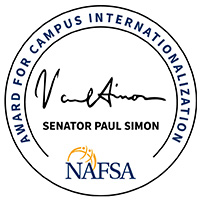 February 22, 2022 — Marist College's abroad program has been selected as one of five institutions nationwide to receive the 20th annual NAFSA – Association for International Educators' 2022 Senator Paul Simon Spotlight Award for Campus Internationalization, specifically for its distinctive Freshman Year Abroad programs in Florence and Dublin. The Senator Paul Simon Award is one of the most prestigious awards an institution can receive in recognition of excellence in international programs.

"Through a combination of cross-divisional cooperation, an emphasis on student support, and a strong sense of community, Marist's Freshman Year Abroad programs have been a resounding success and a distinctive way to study abroad," said Marist College President Kevin Weinman. "We have put considerable thought and work into these programs and believe they are among the most significant and powerful learning opportunities we offer to our students."

The NAFSA Simon Awards recognize outstanding innovation and accomplishment in campus internationalization, defined by NAFSA as a conscious effort to integrate and infuse international, intercultural, and global dimensions into the ethos and outcomes of their students' education. The NAFSA Senator Paul Simon Spotlight Award for Campus Internationalization was specifically awarded to Marist for the College's unique Freshman Abroad Programs, including the Freshman Florence Experience and the Freshman Dublin Experience.
About The Freshman Florence Experience
Through living, studying, and exploring in the birthplace of the Renaissance, students in the Freshman Florence Experience (FFE) spend their entire first year in Florence, Italy. This program is designed for highly motivated freshmen, who wish to pursue major, minor, and core coursework in an international environment, while also allowing for a deeper cultural exploration of historical and contemporary Italy. FFE students complete their classroom work in Florence while also embarking upon educational excursions to cities such as Rome and Venice, as well as smaller locations off the beaten path including Sirmione and Tuscania. This unique learning environment allows for an outstanding start to a student's college experience.
About The Freshman Dublin Experience
Students enrolling in the Freshman Dublin Experience (FDE) spend an academic year pursuing major, minor, and core coursework in the Emerald Isle's capital city of Dublin. FDE students are well-positioned to experience a city and county at a fascinating nexus of technological innovation and rich cultural history. Educational activities outside of Dublin include excursions to Northern Ireland as well as to the West and South of the Republic of Ireland.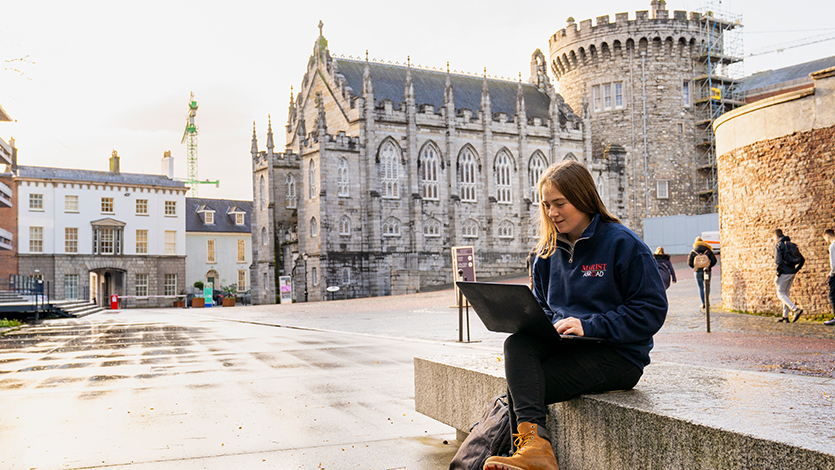 "This year's awards recognize both creative responses to the recent challenges presented by the COVID-19 pandemic as well as long established programs that are true standard-bearers for the field of international education," said Esther D. Brimmer, NAFSA Executive Director and CEO. Marist continued the College's long-standing tradition of sending students abroad during the COVID-19 pandemic by focusing on Marist's core abroad programs and slowly increasing the number of available countries and cities as conditions have allowed.

Global opportunities are a vital aspect of a Marist education. Approximately half of Marist's undergraduate students study abroad as part of their academic experience. Marist was ranked second in the Institute for International Education's 2021 Open Doors Report for semester and academic-year study abroad as well as total number of students abroad (IIE, 2021).

"As with the FFE and FDE programs themselves, the Simon Award application was very much a multi-office effort, including collaboration of a diverse group of staff and faculty. What is most exciting about these programs is not only what students learn in the classroom, but also the skills they develop through living, studying, and immersing in local cultures. A year abroad at the outset of college helps students to see the world differently, forever nuancing the lens through which they experience the world, said Dr. John Peters, Dean of International Programs.

"International study is a signature aspect of the Marist experience, and we are proud to have been recognized by NAFSA and the Senator Paul Simon Award Committee for our commitment to international excellence," said Dr. Thomas Wermuth, Vice-President for Academic Affairs.
About Marist College
Located on the banks of the historic Hudson River and at its Florence, Italy campus, Marist College is a comprehensive, independent institution grounded in the liberal arts. Its mission is to "help students develop the intellect, character, and skills required for enlightened, ethical, and productive lives in the global community of the 21st century." Marist educates approximately 5,000 traditional-age undergraduate students and 1,200 adult and graduate students in 53 undergraduate majors and numerous graduate programs, including fully online MBA, MPA, MS, and MA degrees, and also Doctor of Physical Therapy and Physician Assistant programs. Marist is consistently ranked among the best colleges and universities in America by The Princeton Review (Colleges That Create Futures and The Best 386 Colleges), U.S. News & World Report (3rd Most Innovative School/North), Kiplinger's Personal Finance ("Best College Values"), and others. Its 30-year Joint Study partnership with IBM has brought the College the kind of world-class technology platform typically found at leading research institutions. Marist's academic centers of excellence include the nationally-known Marist Poll, Center for Civic Engagement and Leadership, Hudson River Valley Institute, Center for Sports Communication, and Institute for Data Center Professionals. The College also hosts the Franklin D. Roosevelt Presidential Library's digital archives, making it one of only six colleges or universities in the nation affiliated with a presidential library.
About NAFSA
Serving more than 10,000 members and international educators worldwide, NAFSA: Association of International Educators is the largest nonprofit association worldwide dedicated to international education and exchange. Visit NAFSA at nafsa.org, and to learn more about NAFSA's advocacy efforts on behalf of international education, visit nafsa.org/takeaction.