Graduate Overview Video
Learn more about the value of a graduate degree from Marist College and our innovative approaches for online learning and instructional technology in the classroom.
Watch Video
The Institute for Family Health Academic Partnership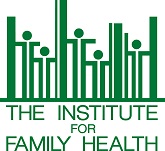 In 1983, The Institute for Family Health opens its first office in the Bronx, NY. Today they have 16 locations operating throughout Manhattan, the Bronx and the Hudson Valley. Their centers set a high standard for community health care and offer top-quality, patient-centered services to people of all ages, regardless of their financial situation. In addition, their centers offer a variety of patient services that include primary care, behavioral health, dental and social services.
The mission of the Institute for Family Health is to improve access to high quality, patient-centered primary health care in communities that are medically underserved. To support this mission they have implemented the following; healthcare equality, community-based health promotion and outreach programs, meaningful use of health information technology, workforce diversity and a work environment that encourages the personal and professional development of its workers at all levels.
As a way of saying "thank you" to The Institute for Family Health employees who reside in our community, Marist College is offering special tuition pricing for all employees and their immediate adult family members.
Special Tuition Pricing for Employees
The Institute for Family Health employees and their immediate adult family members will receive the following benefits:
A tuition discount on eligible graduate and adult undergraduate degree programs. For our complete list of eligible programs and discounted pricing visit our eligible programs and pricing page.
Options for Full-Time and Part-Time Master's and Bachelor's degree programs offered 100% online, in-class or a mix of both.
Eligibility
The Institute for Family Health employees and their families must show proof of employment in order to qualify for the partnership tuition rate.
Adult undergraduate students are defined as students who began their Marist academic career at age 22 or older and who are applying through the Office of Adult Undergraduate Admission. Graduate students are those students who are initiating an application for a stand-alone masters degree through the Office of Graduate Admission.
Final determination of eligibility is made by Marist College.
Complete our online inquiry form to receive more information. All contact information provided is confidential.
Programs Offered
Marist College offers students a variety of programs on-site and online for both graduate and adult undergraduate (ages 22+) learners.
Please visit our eligible programs page for more information.