Marist campus in Florence Italy.
Marist Madrid: Universidad Carlos III de Madrid - Hispanic Studies
Spanish Language and Culture study in the heart of Spain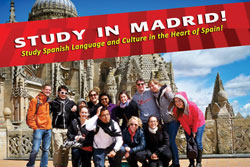 Study Spanish in Madrid with the Curso de Estudios Hispánicos at the Universidad Carlos III de Madrid. Read on for more information about Marist's premier Spanish language program in Spain, and be sure to visit the official Curso de Estudios Hispánicos website for more information.
City
Studying in Madrid offers a wide range of cultural, athletic, and leisure activities. Madrid has a rich historic, artistic, and cultural heritage; it is home to excellent art museums, historic municipalities such as Alcala de Henares, Aranjuez, and El Escorial, and is near the monumental cities of Segovia and Toledo. Madrid also boasts an international airport and a developed public transportation system.
Institution
Every semester nearly 200 students from prestigious North American Universities come to Universidad Carlos III de Madrid (UC3M) to study Spanish language, culture, and an array of humanities courses offered through the Curso de Estudios Hispánicos (CEH) - a program designed specifically for visiting students. Modern campus installations include two libraries, computer rooms in various buildings, recording studios, WiFi throughout campus, a sports center with facilities for a variety of sports, and more. UC3M has dozens of international partners, and is internationally and domestically recognized for excellence in education across multiple disciplines. Total enrollment at the university is approximately 18,000, spread between undergraduate, graduate, exchange, and ERASMUS students.
Program
The Curso de Estudios Hispánicos handles all foreign students attending the UC3M, and is the organization that arranges a two day orientation program for students at the beginning of each semester. This orientation also includes a presentation on the athletic and cultural opportunities available on campus. You can learn more about the program at the CEH Website.
Academics/Coursework
CEH courses are taught entirely in Spanish by UC3M faculty members. A list of courses generally offered through CEH can be found on the program website. Beyond the CEH courses, students also have access to "Regular grado" courses and "Mini-cursos." The regular grado courses are classes offered to the Spanish students at UC3M, which provides students the opportunity to take courses alongside their matriculated peers. Mini cursos, on the other hand, are short courses offered to all UC3M students. These courses range from one to three Marist credits, and can be combined to equal Marist three-credit courses with appropriate Department Chair approval. Most Mini cursos are offered in seminar format, and can complement your CEH coursework within a specific interest or discipline.
Students also have the option to pursue internships or field study if they demonstrate the requisite language skill. Interested students should alert the program coordinator as soon as possible to register the internship course.
Extracurricular
Marist recognizes that in order to experience and learn about a culture it is sometimes necessary to seek experience outside of the classroom. In this light, Marist's Madrid Program has been designed with built-in excursions both in and out of Madrid. Past semester students have participated in excursions to Barcelona, Granada, the Don Quijote route, Toledo, Salamanca, and Segovia. Organized excursions are focused on a theme and include guided visits to main points of interest. Typical excursion activities include Flamenco shows, Bullfights, Theater trips, Cinema, Guided museum tours, and walking tours. All excursions are included in the program fee, and planned well in advance so that students can make arrangements to participate.
The highlight of the excursions is the trip to Morocco; Marist arranges a 4-day trip to Morocco through the non-profit organization Morocco Exchange. This trip is a favorite of Marist students, and provides a genuinely unique opportunity to experience Moroccan culture.
Housing
Housing on the Hispanic Studies program is done with a Host Family. Host families provide the best opportunity for students to become fully immersed in Spanish culture while abroad, and can be an important part of your success in learning more about Spanish culture and honing your language skills. Host families also have a part in the community, and can afford the student access to people, activities, and experiences that it would be difficult to discover independently in four short months. Homestay families are selected based on student review, and individual placements are determined by a questionnaire students complete once they are accepted into the program.
Admission Criteria
Minimum 3.0 cumulative GPA at the time of application
Completion of four (4) semesters College-level Spanish (or equivalent) at time of study
Sophomore standing or higher at the time of study abroad
Academic Advisor approval of program and coursework
General Information
Interested students should contact James Morrow-Polio, Coordinator of International Programs, at james.morrowpolio1@marist.edu with questions and for further information about the program.
Enrollment is limited, and applicants are encouraged to apply early.