An image of Marist Fashion's Annual Silver Needle Runway
Alexis Alexander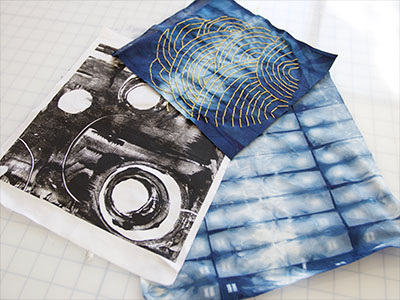 Through internships at Josie Natori, Mara Hoffman, Elizabeth & James and Abercrombie & Fitch, designer Alexis Alexander was exposed to many unique pattern making and development techniques. She's now applying that knowledge to her senior collection and keeping a valuable lesson front and center: never stop being curious.
"I've learned that some of the most valuable lessons about fashion really don't even happen in the classroom," says Alexis. "It's how we apply this knowledge into the real world and see how we can expand it even further."
Alexis' collection abounds with nontraditional silhouettes and hardware. Inspired by the karate uniform and its links to Japanese culture, the overarching theme of the collection is adjustability to suit the individual wearer. The resulting collection shapes and flatters the form.
Peggy Chiang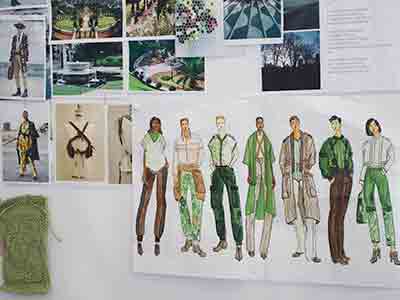 Designer Peggy Chiang has been hard at work designing a collection that has deep personal resonance for her.
Peggy's collection embodies the meeting points of religion, music and nature. A focus of the Baha'i Faith upholds equality and unity. John Lennon's song "Imagine" invites humanity to come together in peace. And, the Hanging Gardens of Haifa brings together elements of design from around the world. All fabrics in the collection are natural—cotton, linen, wool, or leather.
"How the fabric feels is very important to me, so my fabrics all have a soft hand. I also have a number of metal details, especially in my accessories," she explains.
Anna Cortese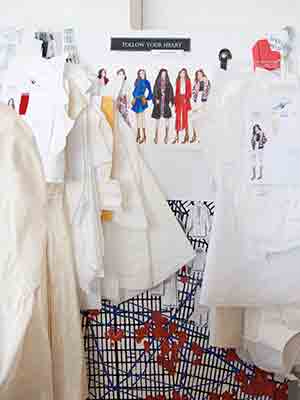 Designer Anna Cortese attended small private schools where she wore a uniform daily and had limited amount of opportunities to express herself through fashion. Instead, Anna chose to express herself through fine arts. As a design student, Anna has transformed her passion for artistic expression into a skill. Work experiences at Abercrombie & Fitch and Ursula of Switzerland helped her fine-tune her craft.
Anna has created a collection that expresses her connection to the phrase, "follow your heart." Emotion and exploration are incorporated in her prints, drawing on the shapes and lines of a city map. Garment curves represent the anatomy of the heart and fluidity of veins, taking inspiration from a book of human anatomy.
"The curves on the garments represent the anatomical heart's organic shape and the fluidity of veins," she notes. "The colors were inspired by the anatomy textbook diagrams of the circulatory system."
Madysen Gabel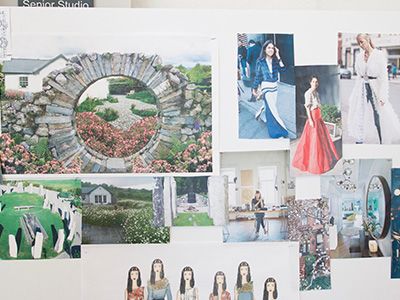 A designer who had an early introduction to Marist Fashion through her enrollment in the Summer Pre-College program as a high school student, Madysen Gabel has a passion for print. She believes that prints can tell a lot about a designer—in fact, her collection is 97% print.
Madysen's print-filled collection consists of hand-dyed feminine flowers. The collection was inspired by gardener Mary Reynolds, and her penchant for enhancing the earth through design detail. Reynolds' shapes and garden blueprints led to Madysen's curved seams and necklines mimicking the stone structures that were a Reynolds' signature.
"In my collection it isn't only the physical design that is mine, the fabric is mine, too," says Madysen.
Keshet Levine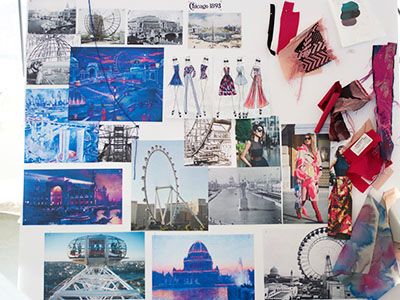 A designer who spent her childhood making dresses for her dolls and pets out of ordinary household items (duct tape, tinfoil, old clothing), Keshet Levine has a passion for design that has only grown with age.
Her collection was inspired by the World's Columbian Exposition of 1893 (the official name for the Chicago World's Fair), and is rich in silk and detailed embroidery. Keshet found inspiration for her runway collection in the plot line of the book, Devil in the White City, reflecting the excitement of new invention and the beauty of a newly created city.
"I first learned about the Fair from the book, which tells the story of one of the architects at the fair and also the story of a serial killer who used the fairgrounds to find his victims," she says. "Because all of my inspiration photos were black and white, I struggled with a color direction. It wasn't until I found a painting of the Fair that was in all different bright colors that I decided that was the best way to reflect the excitement of the Fair."
Jessica Lisa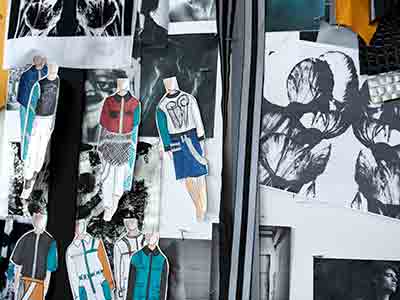 Jessica Lisa is a designer on a mission. Jessica's senior thesis, Nonconformity, is focused on diminishing stereotypes around menswear and womenswear. Through her research, Jessica found interviews of people who identify as gender fluid and say that some days they feel more masculine and others they feel more feminine. Keeping this in mind, Jessica has set out to design a collection that provides something for everyone.
After also studying psychological tests, Jessica was inspired by the Rorschach test, also known as the inkblot test. The Rorschach test brought symmetry to her prints and to the seaming details throughout her garments. Flashes of reflective material suggest hallucinatory flashes. Jessica's resulting collection blurs the lines between menswear and womenswear.
"I chose reflective material because when you are isolated in solitary confinement for an extended amount of time your brain starts to play tricks on you and you can hallucinate flashes of bright light," she says.
Kiersten Litton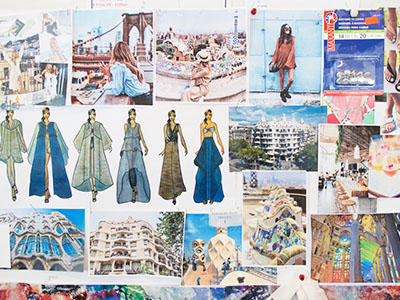 From a young age, designer Kiersten Litton knew she wanted to take on her family's creative legacy. "My grandma was always making things. I was the only kid in dance class with custom made tutus, velvet Christmas dresses, hand knitted sweaters. I have always had great admiration for her talent," says Kiersten.
Setting out to finish what her grandma started, Kiersten pours hours of hard work (and sweat!) into her senior collection on a daily basis, noting, "I first started with my thesis, called 'cooling garments,' which pushed me into the resort direction."
Kiersten's collection focuses on "cooling garments," which has led her to design a spring/summer/resort group. Kiersten explored her new area of interest, swimwear, in a collection inspired by the twists and turns of the legendary Gaudi sculpture at Casa Mia.
Joanna Musacchia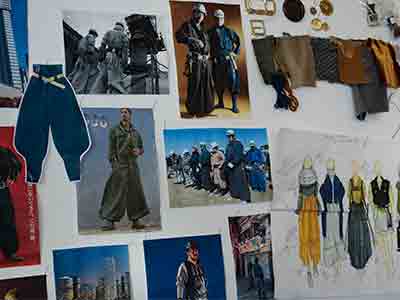 For designer Joanna Musacchia, fashion was a happy accident. After she was placed into a high school fashion illustration course by mistake, she immediately fell in love with the idea of making 2D designs into 3D. Joanna has styling and design experience from her work with numerous clients such Tiffany and Co., Chico's, and Kohl's. Among Joanna's many work experiences, it is her most recent internship at the Ann Inc. (the umbrella company of Lou & Grey) that truly stands out. "At my summer internship I was introduced to the idea of producing garments overseas, and I have been lucky enough to get the opportunity this semester to get two knitwear pieces manufactured at an overseas factory called Bright INC. I have been communicating with them all of senior year, through a mentor, to have these garments produced. It has been an amazing learning experience," Joanna explains.
Joanna was introduced to the global reach of fashion at her summer internship, which she is now applying globalism to her senior collection. To highlight her inspiration of Japanese Construction Uniforms, Joanna juxtaposes softer knitwear pieces in her collection against structural looks in woven fabrications.
Raina Rosario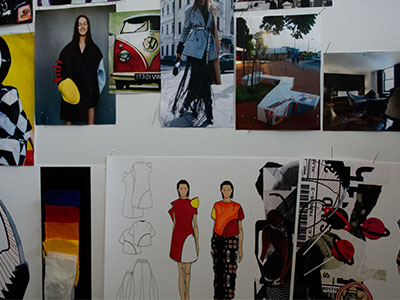 As a child, designer Raina Rosario used any and all resources she had to immerse herself in fashion. "I set up a 'store' in my bedroom where my sister could shop for new clothing I created." In high school, Raina became more serious about a career in fashion when she decided to take pre-college classes at the Fashion Institute of Technology, which helped her build an extensive portfolio that she then sent to Marist. She has done internships at companies such as The Blonds and Alterre Shoes, amassing skills that have informed her senior collection.
Raina's collection is texture-driven, including boucle, recycled sateen and charmeuse, and is inspired by Raina's appreciation for art. The collection is based on the Exquisite Corpse, a method by which words or images are collectively assembled into a work by a series of contributing artists. Raina chose three art forms/artists that would influence her collection: Andy Warhol to represent Pop Art, Marcel Duchamp to represent Dadaistic Art, and Franz Klein for Abstract Art.
Olivia Spathakis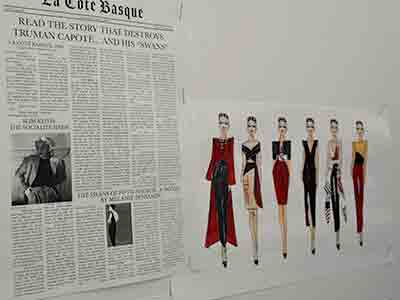 For designer Olivia Spathakis, fashion isn't just her craft, it is her creative outlet. "I was very self-conscious and I always looked to fashion to gain inspiration and confidence. I developed an appreciation for designer pieces and how they could completely transform someone's image," she explains.
As Olivia perfects her senior collection, she continuously reminds herself to take a step back from her work and just look at it from time to time. "Realize what's working and what's not. And if it doesn't work, don't force it because it won't turn out the way you want it to. So many times I feel that the pieces I struggle most on turn out to be my favorites because I am able to see it evolve into something so much better."
Olivia embraces a new look at power dressing, initiating inspiration by the study of the evolution of women in society and the workplace. In an unexpected twist, Olivia created textiles that revolved around the idea of exposure and imperfection expressed in "La Cote Basque, 1965," a story by Truman Capote.
Kayla Torter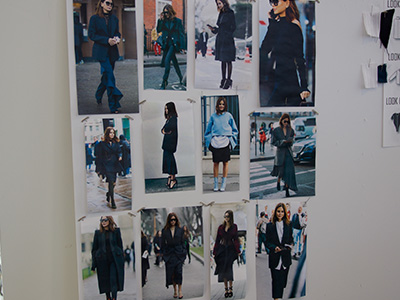 Designer Kayla Torter has interned for renowned companies like Nanette Lepore and House of Z (Zac Posen). However, Kayla's senior collection is inspired by techniques she learned in the classroom: tailoring. "Tailoring is nothing like the mundane fast fashion industry. Sewing parts of a garment by hand makes a piece just that much more special to me."
After taking a tailoring class during her junior year, Kayla realized that tailoring encompasses great skill, experience and tradition. The resulting collection is a mix of menswear and modern femininity, inspired by Gothic architecture seen during European travel and powered by tailoring techniques.
"Not everyone will love the things you design, but as long as you find confidence in your work and appreciate your own creative mind, no other opinion matters," she notes.
Leander Trotter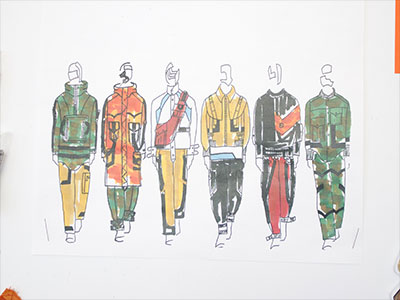 Various experiences have shaped Leander Trotter as a designer. However, it was during his internship at Abercrombie & Fitch that Leander discovered inspiration for his senior collection. "While working in outerwear and also accessories, I noticed many similarities between the two product categories. This connection laid the foundation for my collection."
The process of developing the collection did not come easily. Months ago, Leander began working closely with Professional Lecturer of Fashion Design DooRi Chung, his collections and portfolio professor, by first churning out hundreds of sketches and then editing down the set to his final six looks. It is processes like this one that have taught Leander the value of development. "Whether it is an idea, a skill, or a technique, the first attempt will never produce the best outcome, but with time and dedication, pictures turn into portraits," he says.
Leander melds the worlds of outerwear and accessories in his unique collection. Inspired by early 20th century Bengali and British campaign infantry wear in Southeast Asia, he addresses a relationship between accessories and outerwear through sensible and effective details and accessory-inspired trims and finishing techniques.
Alexa Wisnieski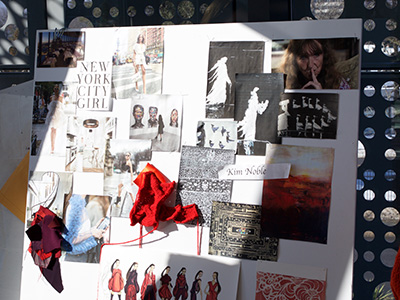 A designer who began sewing at the age of 4, Alexa Wisneski immersed herself in her art as early as she could through sewing classes and Project Runway-inspired kids' camps.
The most valuable thing Alexa has learned throughout her design education is how to bring a sketch to life through draping and pattern making. "There is no correct way to start the design process. You can start with a drape or a sketch, but you have to be open to happy accidents that inspire new ideas or be able to part with something you may love but is no longer right with the rest of your collection."
Alexa recently embraced knitting, and went from knitting a single sweater to knitting five garments for her senior collection. Alexa's collection revolves around a 3-dimensional design process and working on the form. Every decision was made on the shape, being draped or marked on the body.