The President's Cabinet
The President's Cabinet is composed of the following senior college officers and executives:
Kevin C. Weinman – President
Dr. Kevin C. Weinman joined Marist College as its fifth president in October 2021. He came to Marist after serving for eight years as chief financial and administrative officer at Amherst College. A hands-on leader, he is highly engaged in student success, as evidenced by the $250,000 pledge he and his wife, Beth, made in 2021 to make a Marist education more accessible and equitable for a diverse and talented group of students. Deeply committed to Marist's exceptional faculty, in 2022 he led the recruitment of a diverse and dynamic cohort of 24 new faculty across its schools of Communication and the Arts, Computer Science and Mathematics, Liberal Arts, Management, Science, and Social and Behavioral Sciences, the largest cohort to join the faculty in the College's history. Weinman's academic and professional career, which combines scholarship in the history of urban planning and public policy with financial and administrative leadership in the private and higher education sectors, aligns with Marist's signature blend of excellence in the liberal arts and pre-professional training.
Geoffrey L. Brackett - Executive Vice President, Chief Strategy and Innovation Officer
Dr. Brackett has served as Executive Vice President since August of 2010. In that capacity he functions as second officer to Marist's president, and directly oversees many of the key operating areas of the College, including Information Technology, Human Resources, Student Affairs, Institutional Research and Planning, Buildings and Grounds, and Safety and Security. He also chairs many of the key operational committees of the College, including the Budget Priorities Committee, Program Development Committee, and Housing and Enrollment Committee. He also oversees the strategic planning and annual operations for the College, and serves as a key point of contact for local government officials. Dr. Brackett came to Marist after having served 20 years at Pace University in many capacities, most recently as Provost and Executive Vice President for Academic Affairs. Dr. Brackett graduated with honors with a BA from DePauw University, and then took a DPhil in English Literature at the University of Oxford.
Sima Saran Ahuja – General Counsel

Sima Saran Ahuja was appointed College Counsel in November 2018. She provides the College with in-house legal expertise to inform decision making at both executive and administrative levels. Previously, she was General Counsel at Metropolitan College of New York, and she has served in the Office of General Counsel at The City University of New York. Sima has a generalist skill set that spans higher education and nonprofit law, litigation and regulatory compliance, employment, intellectual property, and complex agreements and transactions. Earlier in her career, she was Assistant General Counsel at ConvergEx and a Senior Associate with Fried Frank. Sima has a JD from the B.N. Cardozo School of Law where she was symposium editor of the Arts and Entertainment Law Journal and trained to become a certified mediator. She received her BA from Barnard College where she was a double major in Political Science and South Asian Studies. Sima received her Master's degree in Higher Education at the School of Public Affairs at Baruch College in 2022 to complement her JD in service of higher education institutions.
Dr. Edward P. Antonio - Vice President, Diversity, Equity, and Inclusion (DEI)
Dr. Edward P. Antonio serves as the Vice President of Diversity, Equity, and Inclusion (DEI) here at Marist College. Dr. Antonio brings nearly twenty years of advanced DEI experience to Marist, having served most recently as Chief Diversity Officer at Concordia College in Minnesota. He also has 25 years of experience teaching undergraduate and graduate students at universities in Europe, Africa, and the United States. At Marist, Dr. Antonio will lead the inaugural office of Diversity, Equity, and Inclusion, partnering with President Kevin Weinman, his colleagues on the President's Cabinet, and faculty and staff across the campus to develop a strategic direction for DEI initiatives, build community, establish a system of accountability, and develop resources to support diversity initiatives.
Haseeb Arroon - Director of Institutional Data, Research, and Planning
Haseeb Arroon was appointed Director of Institutional Data, Research, and Planning in January 2021. In his role, Haseeb acts as the official data steward for the College and leverages data to support campus operations and strategic planning. Haseeb started working in the Office of Institutional Data, Research, and Planning in 2012 and has supported nearly all of the College's operational areas with data collection, management, and analysis. He plays a critical role on cross-divisional committees such as the Housing and Enrollment Committee as well as the Retention and Onboarding Committee. Haseeb holds a deep appreciation for the College and remains an active member of the Marist Community as he is a triple alumnus, holding a BS, an MBA, and a Master's of Science in Information Systems with a concentration in Business Analytics.
Michael Caputo - Vice President for Information Technology/CIO
Michael Caputo, MS joined Marist in July 2019 as Vice President for Information Technology/CIO. Previously, he was the Chief Information Officer of the Medical University of South Carolina with responsibilities for both the university and health system. Prior to moving to Charleston, he served as the CIO of the Washington University School of Medicine in St. Louis. In addition, he served as the Director of Information Systems and the Director of Telemedicine Operations at the University of Vermont College of Medicine, the Project Executive of the C. Everett Koop Institute, a Board Member and Treasurer of the American Telemedicine Association, and as a Project Scientist at NASA's Johnson Space Center. Mr. Caputo's work has earned him numerous awards, including NASA Certificates of Recognition, a Leadership Award from the NASA Administrator, and two United States Patents. He received degrees from the Rochester Institute of Technology and the University of Houston.
Dr. Addrain Conyers - Assistant Provost for Faculty Development
In July 2023, Dr. Addrain Conyers was named Assistant Provost for Faculty Development. In this role, he develops and manages programs and policies that support faculty growth and development. He joined Marist in 2012 and has held many impactful positions, such as Chair of the Criminal Justice Department, Director of Academic Diversity and Inclusion, and Co-director of the Social Justice minor. Recently, he co-chaired the Strategic Plan Academic Excellence and Middle States Ethics and Integrity working groups. Amid this service, he also earned certificates in higher education leadership from The Chronicle of Higher Education and Harvard's Management Development Program. During his tenure as Director for Academic Diversity and Inclusion, he co-founded the Explorations in Social Justice Conference. A recipient of the 2020 Board of Trustees Faculty Award for Distinguished Teaching, Conyers has authored, edited, and collaborated on many publications on deviant behavior, social equity, and organizational culture such as: Deviance Today, Readings in Deviant Behavior, and Mass Incarceration in the 21st Century.
Christina Daniele - Vice President for Human Resources
Christina Daniele was appointed Vice President for Human Resources in October 2017. In her role, Christina provides strategic leadership and guidance in the overall administration of Human Resources, including ethics compliance, strategic recruitment, benefits and compensation, HR information systems, workforce development, and employee and labor relations. In addition to her regular duties, Christina also serves as the College's Title IX Coordinator. She began her career almost 20 years ago working in the child welfare industry, and served as Director of Human Resources and Risk Management for both Family Services, Inc. (FSI) in Poughkeepsie, NY, and Lincoln Hall, a non-profit residential treatment center for court-mandated male adolescents prior to joining Marist in 2011. Ms. Daniele holds a Bachelor's degree in Psychology and Criminal Justice and a Master's degree in Education and Counseling Services from Fordham University. She holds her Professional Certification in Human Resources from SHRM (the Society of Human Resource Management) and HRCI (the HR Certification Institute) and is a certified Coordinator and Investigator under ATIXA (the Association of Title IX Administrators). She serves as an active member of the Mid-Hudson SHRM chapter and CUPA-HR (the College and University Personnel Association).
Christopher M. DelGiorno - Vice President for College Advancement
Appointed in 2011, Chris serves as the College's chief advancement officer, providing strategic direction and leadership for Marist's development, alumni relations, and advancement services programs. Before returning to his alma mater, Chris was executive director of leadership gifts at Bucknell University. Previously, he served at the University of Pennsylvania as director of development for the School of Social Policy and Practice, and as Penn Development and Alumni Relations' first director of recruitment and professional development. While Chris began his work in development at the Ronald McDonald House of Southern New Jersey, his career started in the Office of Admission at Marist and continued with his service at the College Access Program, a Pew-funded initiative to increase the rate of Philadelphia public school students who enroll in college. In addition to his BA in communication from Marist, Chris earned an MLA from the University of Pennsylvania with a concentration in nonprofit leadership. He also completed the fundraising certificate program at Penn. Chris and his wife, Nancy, have two sons, both Marist alumni, Benjamin '16 and Timothy '20.
Deborah DiCaprio - Vice President and Dean for Student Affairs
Deborah DiCaprio joined Marist as a Mentor in January 1982. Over the next three years, she lived and worked in the residence halls, assisting the Marist students both academically and personally. In 1985, she was named the Assistant Dean of Student Affairs where she continued to work on behalf of the Marist students. In 1999, upon the resignation of the Associate Dean of Student Affairs, she assumed responsibility for some of those duties. She supervised the Counseling Center, Health Services, Special Services, the Department of Spiritual Life and Service and the Mentor Program. She also had responsibilities pertaining to the Orientation Program, Parents Weekend and the annual Junior Ring Ceremony. She was appointed Vice President/Dean for Student Affairs in December 2001. As the Dean, DiCaprio oversees the Department of Athletics, Housing and Residential Life and Student Activities. DiCaprio earned her Bachelor's Degree in History from St. Bonaventure University, where she also earned her Master's Degree in Education, with a concentration in Student Personnel Services. DiCaprio resides in Poughkeepsie, NY; she and her husband Joseph have two children, Adam and Kira.
Deborah Gatins - Dean, School of Social & Behavioral Sciences
Dr. Deborah Gatins received her BA degree in psychology from Vassar College and her Ph.D. in Clinical Psychology from the University of Miami, Florida. She worked in residential treatment setting with adolescents for 10 years and maintained a private practice for 24 years. She has been at Marist since 1999 and has risen through the ranks from a member of the psychology department to her appointment as Dean of the School of Social and Behavioral Sciences in 2017. Dr. Gatins was an active practitioner for many years and consulted with Human Relations Media to produce more than 25 video-based curricular programs for middle-school and high-school students on various health related topics (e.g., substance abuse, stress, eating disorders, dangerous relationships, etc.). Her research also focused on adolescents, and she has published in the areas of substance abuse and adolescents' adjustment to divorce.
Sean P. Kaylor - Vice President for Enrollment Management
Following his graduation from Marist College in 1990, Sean began his career in The Office of Admission as an Assistant Director and worked his way up to Vice President for Admissions and Enrollment Planning by 1998. He now serves as Vice President for Enrollment Management. In this role he oversees Undergraduate and Graduate Admission, Enrollment Services, and Student Financial Services for both the main campus in Poughkeepsie, New York and the Marist campus in Florence, Italy.

He is a Board of Trustees member at St. Bernard School in Connecticut and a Past President of the New York State Association for College Admission Counseling (NYSACAC). Over the last three decades, he has presented/moderated at regional and national conferences on all topics related to enrollment management.

Sean lives in Poughkeepsie, New York with his wife Paula and two daughters, Katie and Samantha.
Dr. Catherine Gunther Kodat - Provost and Dean of Faculty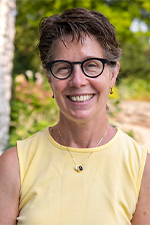 Dr. Catherine (Katie) Gunther Kodat joined the Marist community as Provost and Dean of Faculty in May 2023. She serves as Marist's chief academic officer and leads the vision and strategy for an academic portfolio that includes innovative curriculum, high-impact practices, and valuable experiential learning opportunities both in and out of the classroom. Dr. Kodat leads the faculty and ensures they have the appropriate resources, pedagogical support, and alignment to Marist's academic strategy, and oversees the teams across student academic affairs to continue producing the outstanding outcomes that have become a hallmark of Marist graduates. She began her career in higher education at Hamilton College, where she was professor of English and American Studies for more than 15 years. Having served as Dean of the College of Arts and Sciences at Lewis & Clark College and Dean of the Division of Liberal Arts at the University of the Arts, Dr. Kodat comes to Marist from Lawrence University, where, as Provost and Dean of Faculty, she helped adopt more inclusive trainings and universal design for learning in courses in the humanities, the humanistic social sciences, and natural sciences. Dr. Kodat earned a B.A. in English at the University of Baltimore and an M.A. and Ph.D. in English at Boston University.
Will Lamb - Dean, School of Management
William B. Lamb is Dean of the School of Management at Marist. Dr. Lamb's areas of expertise include knowledge management, technology management, and the birth and growth of higher technology industries. His research also has focused on the link between financial performance and corporate social performance. He has won teaching awards at three universities: Virginia Tech, Millsaps College, and Ohio University. Prior to joining Marist he served as Principal and Dean for Graduate and Adult Learner Recruitment at EAB Global, a higher-education consulting firm. He also served previously as Dean of the LaPenta School of Business at Iona University and as Murata Dean of the F. W. Olin Graduate School of Management at Babson College. Dr. Lamb holds a Ph.D in Strategic Management from Virginia Tech and a Master's in Education and Bachelor's in Anthropology from the University of Virginia.
Dr. Carolyn C. Matheus - Interim Dean, School of Computer Science and Mathematics
A Marist alumna, Dr. Carolyn Matheus was named Interim Dean of the School of Computer Science and Mathematics on July 1, 2023, following a three-year term as Honors Program Director. With areas of focus in data, analytics, and information quality, she has more than a decade of faculty experience at Marist, earning a 2019 The National Society of Leadership and Success Award for Excellence in Teaching. Through her various committee work for Middle States, Rank and Tenure, and the Academic Affairs, she has helped steer the college forward. Dr. Matheus also enjoys working closely with students, as internship coordinator for Computer Science and Information Technology and Systems students, as an Emerging Leadership program collaborator, and through her extensive work with Marist International Programs. She holds a Ph.D. from SUNY Albany in Organizational Studies with a Concentration in Leadership.
Dr. John Peters - Vice Provost & Senior International Officer
Dr. Peters came to Marist in 2009 as Dean of International Programs and was promoted to Vice Provost & Senior International Officer (SIO) in 2023. As Vice Provost and SIO, John provides leadership and coordination to promote the comprehensive internationalization of the College.
From the Great Barrier Reef, to the forests of Madagascar, the landscapes of Mongolia, the streets of Havana, and the center of Florence, John has loved playing a small but important part in students' intercultural exploration and personal growth. Prior to Marist, John served in a variety of capacities at the School for International Training (SIT), developing, running, and supporting experiential education programs worldwide. He is also Associate Professor of Economics at Marist, with interests in political economy, development, and the history of economic thought.
John holds a BA in Economics and Japanese Studies from California State University, Sacramento, MA degrees in Economics and International Affairs from Ohio University, and a PhD in Political Economy from the University of Southern California. When not traveling to support Marist students and programs abroad, John resides in the historical hamlet of Staatsburg, NY. He and his partner Vanessa, also an international educator, have two daughters, Jamie, who graduated from Marist in '22, and Layla, class of '27.
Dr. Jacqueline Reich - Dean, School of Communication and the Arts
Dr. Reich, Dean of the School of Communication and the Arts, joined the Marist community from Fordham University, where she was a professor of communication and media studies, and recently completed a seven-year term as chair. The author and co-author of three books and one edited collection on Italian film history, Reich is also a member of the doctoral faculty at the University of Florence's History of Art and Performance Ph.D. program. As department chair at Fordham, Reich oversaw the creation of four undergraduate majors and five new minors, an interdisciplinary program in new media and digital design, and a new master's program in public media. Under her leadership, enrollment grew by 50 percent in graduate programs. In addition, she supervised more than 60 full- and part-time faculty.
Prior to Fordham, Reich spent 18 years as an assistant and associate professor of cinema and cultural studies at Stony Brook University. There, she was responsible for the revision of three undergraduate majors and two minors, participated in the merger of two departments into one, and supervised a staff of nine in her role as faculty director of the Undergraduate College of Arts, Culture, and Humanities. During her career, she has served on a number of university-wide committees, including elected appointments to Fordham's Faculty Senate, the Graduate School of Arts and Sciences Executive Committee, the Faculty Policy and Resources Committee (chair), and the Tenure and Reappointment Appeals Committee (chair).
Daryl Richard - Vice President of Communications and Marketing
Daryl Richard serves as the Vice President of Communications and Marketing for Marist College. A Class of '97 alumnus, Richard reports directly to President Weinman and is a member of both the Cabinet and the President's Advisory Council (PAC). He is responsible for driving the college's overall marketing and communications strategy and leads a team that is helping build Marist's national reputation while showcasing the college's distinctive educational experience that blends pre-professional training with a broad-based liberal arts foundation. Before returning to Marist, Daryl served as Vice President of Marketing and Communications at Quinnipiac University, where he helped launch the university's first-ever brand campaign as well as a digital news platform that engages the entire QU community about key happenings at the university. Daryl began his career in journalism, working as a reporter for the Hartford Courant and Time magazine and then spent nearly two decades in various communications and public affairs roles at the vice president level at Fortune 100 companies UnitedHealth Group and The Travelers. He graduated from Marist magna cum laude, majoring in communications with a concentration in journalism and a minor in political science. He served as Editor-in-Chief of the student newspaper, The Circle, worked for the Marist Poll, and hosted a show on our campus television station, MCTV.
Dr. Carol R. Rinke - Assistant Provost for Student Success
In 2013, Dr. Carol Rinke joined the Marist faculty and was appointed Assistant Provost for Student Success in July 2023. As assistant provost, she develops and manages programs and policies to nurture undergraduate and graduate student success. Prior to this appointment, she held numerous significant leadership positions at the College, including Social and Behavioral Sciences Associate Dean, Middle States Re-Accreditation Co-Chair, and Marist Center for Social Justice Research Coordinator. For several years, she headed the Education Department and its high-quality teacher preparation programs. Rinke brings her background developing and supporting deep and authentic academic experiences that serve students equitably to her role in the Provost's Office. As a Professor of Science and Mathematics Education, she teaches courses on STEM education methods and oversees a research program around teacher career development, particularly in hard-to-staff classrooms and for educators of color. Rinke has authored and edited three books and numerous publications. She is a co-principal investigator for a Spencer Foundation educational research grant.
Emily Saland - Vice President of Strategic Initiatives and Chief of Staff
Emily Saland was appointed Marist's Vice President of Strategic Initiatives and Chief of Staff in May of 2022. Prior to that she served as Chief of Staff and Secretary to the Board of Trustees, a position she held from July 2017 until May of 2022. In addition to overseeing the operations of the President's Office, Emily works with members of the senior administration, faculty, staff, students, alumni, community members, and other stakeholders in order to set institutional priorities through inclusive and comprehensive strategic planning processes, and to advance cross-divisional initiatives. She also oversees the Secretary of the Board and has primary responsibility for issues related to institutional governance.

Emily earned her BA from Cornell University summa cum laude, an MFA in Poetry from George Mason University, and a doctorate in Higher Education Management from the University of Pennsylvania. Her dissertation focused on factors related to time to degree completion, and she is deeply committed to student success and enhancing graduation outcomes including retention, persistence, and time to degree. She is past chair of the Board of Directors of the Eleanor Roosevelt Center at Val-Kill (ERVK) and a member of the Walkway Over the Hudson's Board of Directors.
Martin B. Shaffer - Dean, School of Liberal Arts
Dr. Shaffer joined the Marist faculty as an Assistant Professor of Political Science in 1994, and he served as Chair of the Political Science Department from 2001 to 2007, overseeing a period of significant growth in that major. He was appointed Interim Dean of the School of Liberal Arts on August 1, 2007, and he began his duties as Dean on September 1, 2008. Dr. Shaffer earned his Bachelor of Arts in Political Science from LeMoyne College and his M.A. and Ph.D. in Political Science from the Rockefeller College of Public Affairs and Policy at SUNY Albany. Dr. Shaffer teaches a variety of courses in American politics, including History of the American Presidency, Congress Today, and Scope and Methods of Political Analysis. Dr. Shaffer's research interests include presidential leadership, the environmental movement, and New York State politics. He has published several articles in scholarly journals, including Policy Studies Review and Presidential Studies Quarterly, and his book project, Empire State Politics, is under contract with McGraw Hill. Dr. Shaffer and his wife, Joanne, reside in the Town of Poughkeepsie with their three children.
Alicia Slater - Dean, School of Science
Dr. Slater is a Professor of Biology and has served as Dean of Science at Marist College since 2018. Under her leadership, the School of Science has secured a $1.5 million National Science Foundation grant to support academically talented students with financial need. She is leading the development of a School Advisory Board. Slater also serves on the Marist College Strategic Planning Steering Committee, chairs the college's Medical Advisory Group, was the Coordinator of Marist's COVID surveillance testing program, and served on the Presidential Search Committee.
Prior to joining Marist, Dr. Slater served for 16 years at Stetson University, where she moved from Assistant Professor to Department Chair, and ultimately held an Endowed Chair while leading the University's Curriculum and Assessment program. Her time at Stetson was marked by improved student retention and success, the development of sophisticated assessment models to ensure academic quality, and support for faculty development and curricular innovation.
Dr. Slater has a B.S. in Biology from Georgia Institute of Technology, and an M.S. and Ph.D. in Biology from Virginia Polytechnic Institute and State University. She served as an NSF Postdoctoral Research Fellow at Griffith University in Australia. Her academic research focuses on the molecular ecology of freshwater invertebrates, and she has also published and presented extensively on best practices in teaching, student success, and assessment.
James Snyder - Dean for Academic Engagement
James Snyder is the Dean for Academic Engagement. As Dean of Academic Engagement, Snyder oversees the Core/LS program, First Year Seminars, the Honors Program, and he provides leadership and coordination to Marist's many high-impact practices. Snyder is an Associate Professor of Philosophy, and from 2014-2019 he was Director of the Honors Program. Under his leadership, the program saw important improvements in retention, engagement, and graduation rates. In 2017 he was awarded the Board of Trustees Distinguished Teaching Award. He is a historian of philosophy, and he has recently published articles on high-impact practices and higher education administration.
Beth Veasey – Vice President for Business Affairs/Chief Financial Officer
Beth Veasey joined Marist College as Associate Vice President of Financial Planning & Analysis in May 2017, and was appointed Chief Financial Officer in February 2022. Prior to Marist, Veasey served fifteen years with several leading financial services firms, including J.P Morgan, Bank of America, and Moody's Investors Service, as a financial analyst and financial services provider for higher education institutions. She has primary responsibility for oversight of all aspects of Marist's financial planning and reporting activities, including endowment investments, annual capital and operating budgets, long-range forecasts, and treasury. Veasey earned her B.A. summa cum laude from Tufts University and her Masters of Public Administration with a specialization in public policy and finance from New York University.